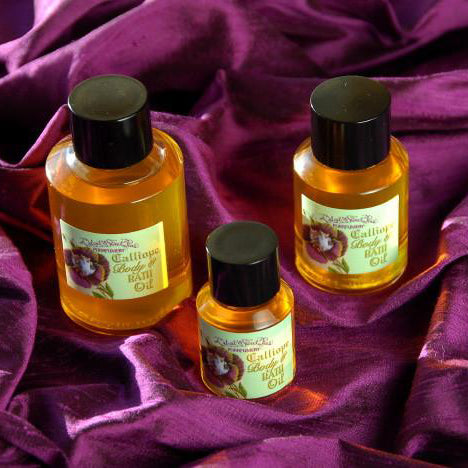 Calliope Body Oil
$35.00
With therapeutic properties ranging from antidepressant to aphrodisiac, this luscious blend is sure to transport you to an enchanted state of mind. Calliope is a complex and sensually delicious body oil containing rich frankincense, narcotic night- and dawn-blooming jasmines, organic Italian orange blossom, Comoros ylang ylang, Bulgarian rose otto, aphrodisiac black pepper, and organic blood orange peel.
The base is exceptionally pure and rich in antioxidants, vitamins, and omega-3 and -6 fatty acids, essential components for the maintenance of healthy skin. Laurie blends organic vanilla infused jojoba, red raspberry seed, evening primrose, rose hip, avocado, sunflower, moringa, argon, and meadowfoam oils to create this supple bath time treat suitable for all skin types.
Soothing and softening, Calliope can be used for heavenly scented massage, as a facial oil, or as a moisturizing bath oil.
(Citrus oils are photosensitizing, so this oil should not be applied in the sun!)
Laurie's Feeling Notes: Frankincense, jasmine, rose otto, Ylang Ylang, all relaxing, soothing and euphoric, gives me a sense of peace.
*All of the sandalwood, frankincense, and vanilla that I use was purchased nearly 20 years ago. I have not purchased any more since then as these species have become threatened, and in some cases endangered, because of overharvesting according to Red List Project.

Review~
A good body oil is an obvious necessity nowadays. Everyone needs that moist richness, really. isn't that what anti-aging ought to be about?
My newest obsession of late is the impeccably blended Calliope Body Oil ($65) under the watchful hands of the tremendously talented perfumer, Laurie Stern. The meticulous detail that has gone into this highly perfumed body oil is second to none. I say this because most body oils tend to have a fleeting fragrance, sometimes leaving you wanting to wear the scent as a valid alternative to perfume. While you won't get any sillage or diffusive powers with most of the oils out there, Calliope is almost that wearable type thanks its perfume-like elements.

I like how Laurie uses the Vitamin-enriched, easily absorbed, highly stable Marula in her base of Red Raspberry Seed, Evening Primrose, Rosehip, Avocado and organic Vanilla infused Jojoba oils. This roster shows just how on trend perfumers are with body care. Seeing her shrewd choice only serves to fuel my fire for fragranced body oils…the issue that has forefront on this blog is how do I get more perfumers to create flanking body oils?! With fragrance tastes so exacting, it just makes common sense. Another rant for another day…

Laurie gets this and uses her lessons of perfumery to create a highly stylized oil that invites repeat sniffings. The ultra-smooth viscosity of the oil feels like a dry oil. It disappears on its slather and doesn't leave a weighted feel on skin.

And, like the feel, the scent is a first; the list delicious delights may sound a tad heavy, but are actually subtle. A sainted Frankincense comes forth at the opening thrill, but quickly glides into the sensual Orange Blossom playing with a little nip of Black Pepper. The art here is different as the top notes fade quickly into my always favourite Night and Dawn Blooming Jasmines. The sweet fleeting juices of Orange Blossom and organic Blood Orange Peel lend a tender citrus shine as joyfully as the Rose Otto, but Jasmine fans rejoice! The end result on skin is the sensual veil of Jasmine as your last sniff.

I wanted this oil to last as long as possible, which isn't long in the world of body oils, but longer than most. A brilliant creation, rich, warm flowers are what Laurie knows best. She has created something true special out of her infatuation…something that transforms skin with a decidedly vintage charm.

Navdeep Mundi, Beauty Huile blog