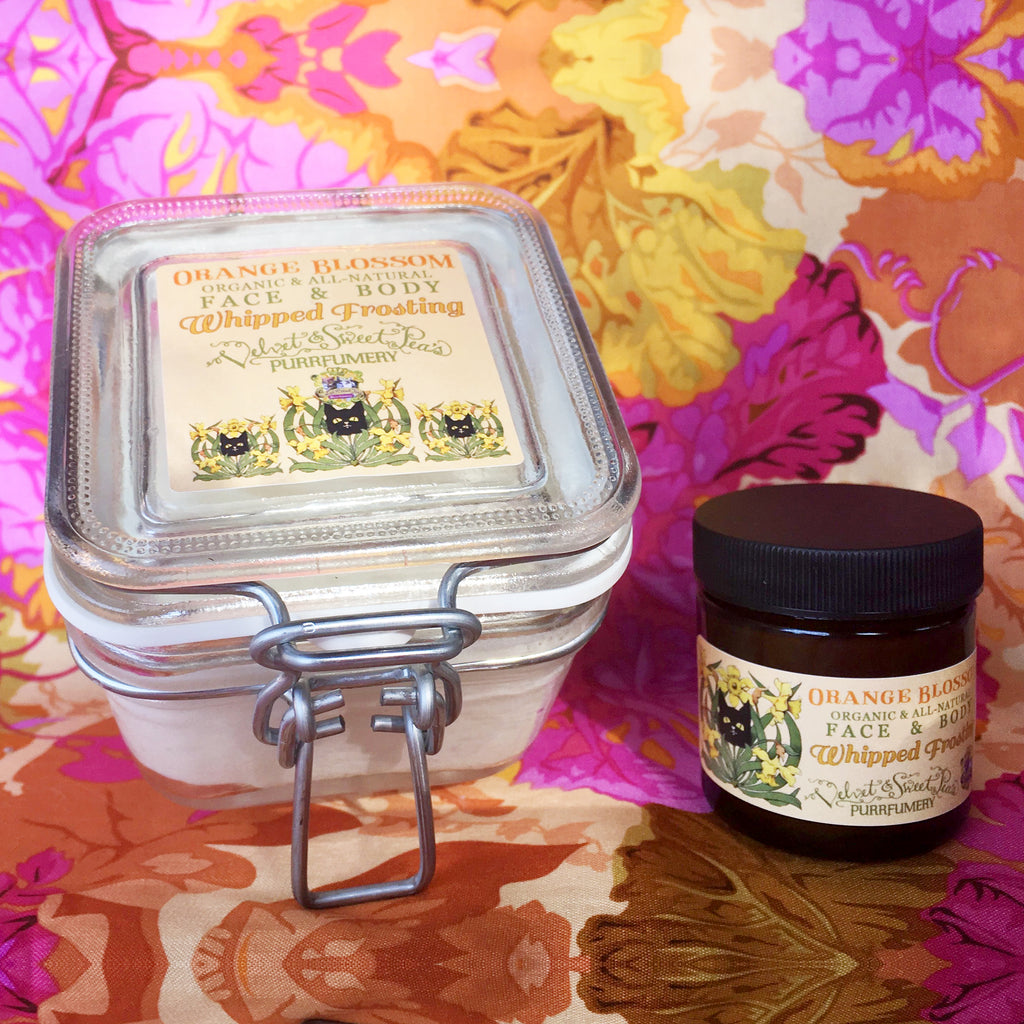 Orange Blossom Whipped Face & Body Frosting
$40.00
This gorgeous and uplifting moisturizer, made with Italian Neroli flowers and organic tangerine and orange essence oils, is especially healing and regenerative for mature and dry skin. Dreamy Neroli blossoms calm and soothe, and bright, juicy citrus is a natural antidepressant.
Velvet and Sweet Pea's Frostings are whipped to a decadent, creamy texture, but our all-natural ingredients may lose volume when exposed to high heat. Because of this we will not be shipping frosting during the hottest months, and we recommend that you keep your frostings in the fridge during the hottest part of summer. If you live in an area of the US that is usually above 70 degrees in the winter, we don't recommend purchasing.
The Frostings are available at the Purrfumery all year, so you can make an appointment and stop by to pick them up!
Review~
Orange Blossom is another incredibly gorgeous Frosting that Laurie Stern has created for us orange-loving fools. Orange Blossom is a bit of a chameleon. One moment she has me sitting on a comfy couch, 'round the fire at a holiday party… hints of mulled spices in the air. Neroli sometimes has that effect, it can be slightly herbally and aromatic. Then within a moment, Orange Blossom will hasten me away to a beachy holiday that's all tangeriney and breezy. I love that about Orange Blossom, its dichotomous nature.
Of the three Frostings, Orange Blossom has the smoothest vanilla quality. It is luscious. It's easy to think Creamsicle because of the orange/vanilla duo, but don't. All of them have a very sophisticated vanillic base that lean gourmand, but never in a foody or cloying manner. Only in a swoon-worthy, I-hope-I-can-always-get my-hands-on-this-stuff kind of way.
-Trish Vawter, Scent Hive Natural Beauty Blog