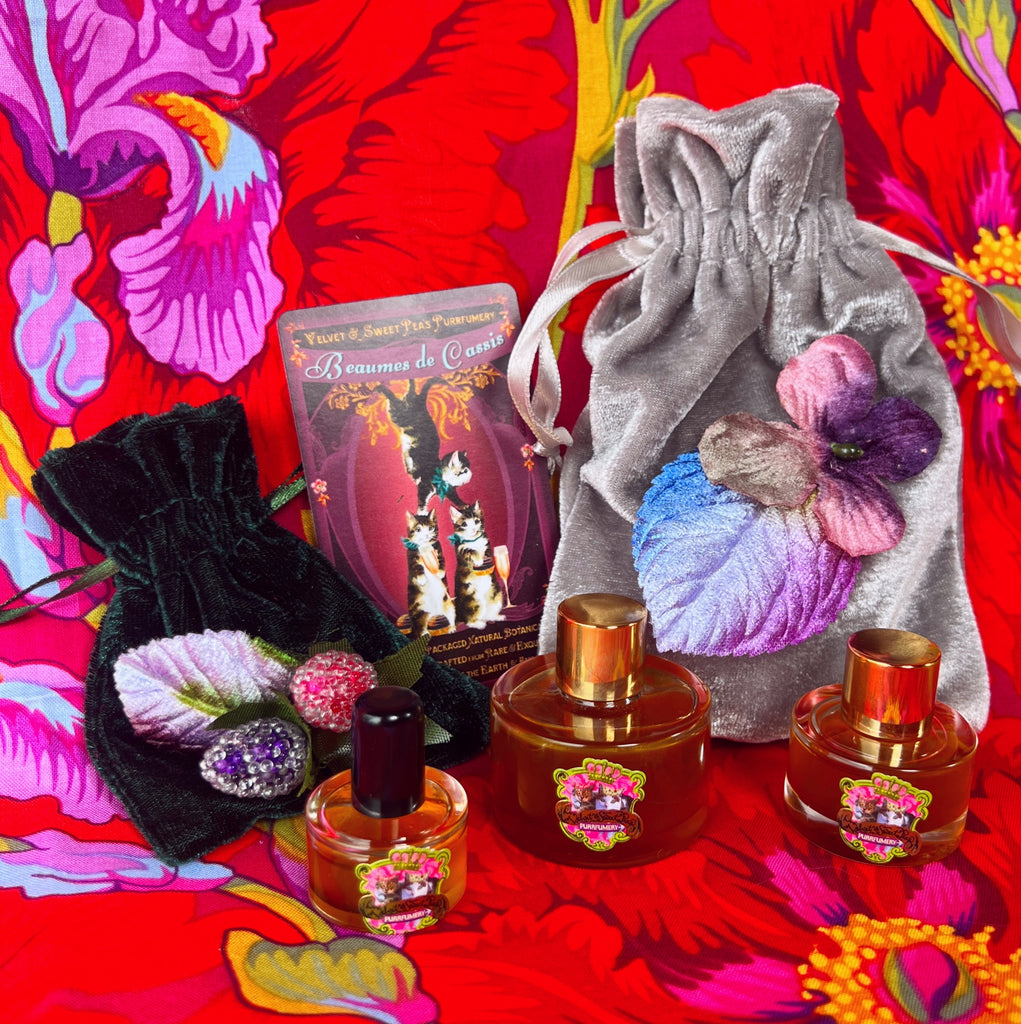 New! Kittylicious Beaumes de Cassis organic perfume
$68.00
The ultimate fruity bon bon, Beaumes de Cassis is the essence of celebration – the clinking of glasses filled with sweet dessert wine and jasmine petals. Beaumes de Cassis opens with a euphoric burst of juicy blood orange, ripe berries and jammy black currant bud. Osmanthus, Tasmanian boronia and a rare boronia wax gifted from a dear friend complete the fruity mélange that finds its heart in a woodsy mix of benzoin resins and fir balsam. Bold at one moment and deliciously dreamy in the next, this is a scent for savoring the moments of joy and beauty in the world.
What to name this gorgeous bon bon? I was stumped! I sent samples to my Purrfumery friends with their orders and held a naming contest. Thank you to Jodi Battershell from Solidly Scented for your contribution to naming my new perfume! Jodi is a delightful perfume lover, writer, and perfume blogger specializing in solid perfumes.
Available as 5ml, 8ml, or 15ml organic jojoba oil based perfume and as an exquisite, creamy solid. The liquid perfumes come in gorgeous round bottles crafted by Verreries Brosse, a Normandy company that has been making bottles for royalty since the 1850s. All come in a vintage flower adorned velvet pouch.
We donate a portion of the proceeds from Beaumes de Cassis to Bay Area organizations that provide spay, neuter and rescue services to animals in need We love to support Palomacy Pigeon and Dove Adoptions, as they are helping unreleasable, injured, lost, and abandoned pigeons. I have an aviary myself of these delightful birds!
Reviews~

The black currant buds were a stand-out note on my skin. Juicy blood orange and the apricot-leather scent of osmanthus imparted a gentle sweetness and balanced the black currant's astringency. Fruity floral boronia was folded seamlessly into the mix. But the fir notes and forest aspects were an important part of the fragrance experience, too. This was definitely a fragrance that could be appreciated at first sniff, but Laurie's perfumes are always wonderfully complex, and there was a lot to parse and ponder in this little gem. 
Jodi Battershell, Solidly Scented
Beaumes de Cassis from Velvet and Sweet Pea's Purrfumery stands apart from the pack due to Laurie Stern's rare and accomplished sensibility along with her high standards for quality materials. Not since The Vagabond Prince's Enchanted Forest has the currant note been so elevated and distinctive. 
Matt Morris, Fragrantica Editors Favorite Perfumes of 2022
When Laurie refers to Beaumes de Cassis as "the ultimate fruity bon bon", and "the essence of celebration – the clinking of glasses filled with sweet dessert wine and jasmine petals", she is right on point. Immediately upon contact, a dazzlingly juicy blood orange appears – in the playful company of fresh berries and piquant, winey black currant bud absolute (cassis). Cassis is tart and tangy, a delightful material – and the luscious apricot-y nature of both osmanthus and boronia flesh out the fruit aspect of a dessert wine, while subtle leather undertones (osmanthus) mimic tannins and contribute sophistication. In order to ground and prolong our pleasure, Laurie utilizes the balsamic notes of benzoin; the jammy character of fir resin echoes fruit while it adds a charming sylvan facet which complements the entire composition. I wouldn't be surprised if a kiss of elemi or frankincense were included; jasmine lends a gentle indolic floralcy which feels just right.
I dearly wish that Velvet & Sweet Pea's Purrfumery was better known to the public. Despite a listing of notes which appear relatively modest, her perfumes are nothing if not complex – and Beaumes de Cassis is a beautiful example of this quality. I can also see why the solid fragrance format appeared appropriate: it glides over the skin obligingly, and the beeswax can't help but augment a faintly animalic caress. There must be some form of trompe-nez at work here, because Beaumes de Cassis is much more than the sum of its parts. It's a joy to don a fragrance which is both high-spirited and thoroughly sophisticated. 
~ Ida Meister, Deputy and Natural Perfumery Editor, Cafleurebon 2023