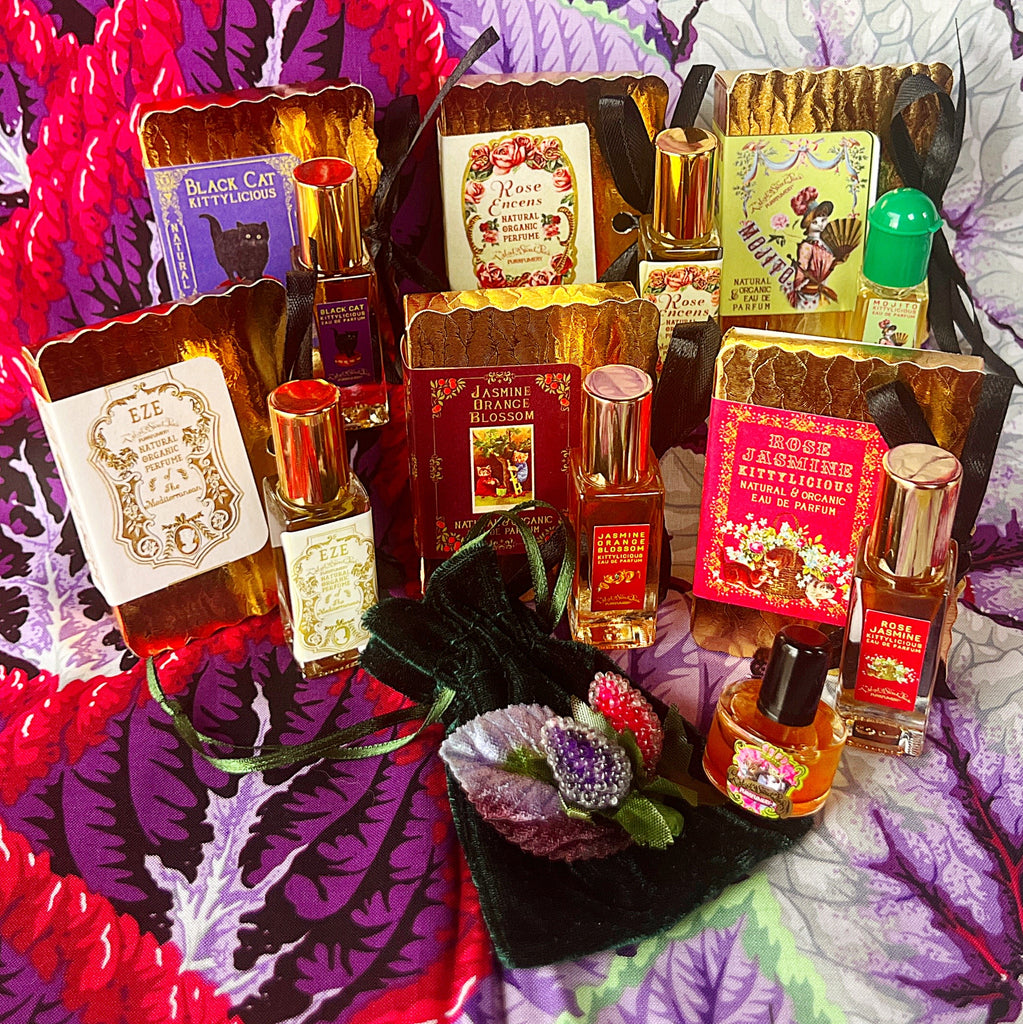 Kittylicious Eau De Parfum Set
$395.00
Kittylicious Eau De Parfum Set
Inhale deeply… and indulge your imagination!
A journey from sexy and sophisticated to warm and carefree, the Kittylicious line features the Purrfumery's most popular scents. Experience each Kittylicious eau de parfum in one gorgeous package… Laurie wraps the roll top bottles in a sparkling gold book box and tucks the entire selection into a supple velvet pouch adorned with a velvet flower. Beaumes de Cassis comes in an adorable round Brosse crystal bottle in a vintage flower adorned velvet pouch. This is an incredible gift of scent for yourself, or someone your love!
New! Beaumes de Cassis- a sumptuous eau de parfum with its juicy blood orange, jammy black current bud, Tasmanian boronia and more. 5ml Brosse bottle.
Mojito—spearmint, Mexican lime and dark rum in a base of Tahitian vanilla-infused organic jojoba oil—this swaggering scent is said to be the purrrrrfect first date perfume! For men and women. 5 ml bottle.
Black Cat is a favorite of Purrfumery friends near and far! This beguiling beauty casts her spell with hints of blood orange, cocoa, sensuous ylang ylang and a hint of sweet, surprising aniseed myrtle. 5 ml bottle.
Jasmine Orange Blossom… a deliciously warm blend of French orange blossom and narcotic night-blooming jasmine in a base of Tahitian vanilla-infused organic jojoba oil. Reminiscent of our luscious Honey perfume. 5 ml bottle
Rose Jasmine, is Laurie's original "it's gonna be alright" scent. Gorgeous and serene, this scent blooms on the skin with gorgeous rose and sultry jasmine. 5 ml bottle.
Rose Encens… a sensuous treat the opens with a deep, rich scent of rose that mingles with sweet, tart Italian blood orange and Mexican lime top notes. Savor the mystery of sacred Frankincense resin as this scent lingers on your skin. 5 ml bottle.
Eze makes its entrance with a refreshing pop of lemon and unveils a gentle bouquet of lavender, rose geranium, myrtle and jasmine. This perfume finishes in the amber, healing warmth of Labdanum rock rose. 5 ml bottle.
$44.00 savings!