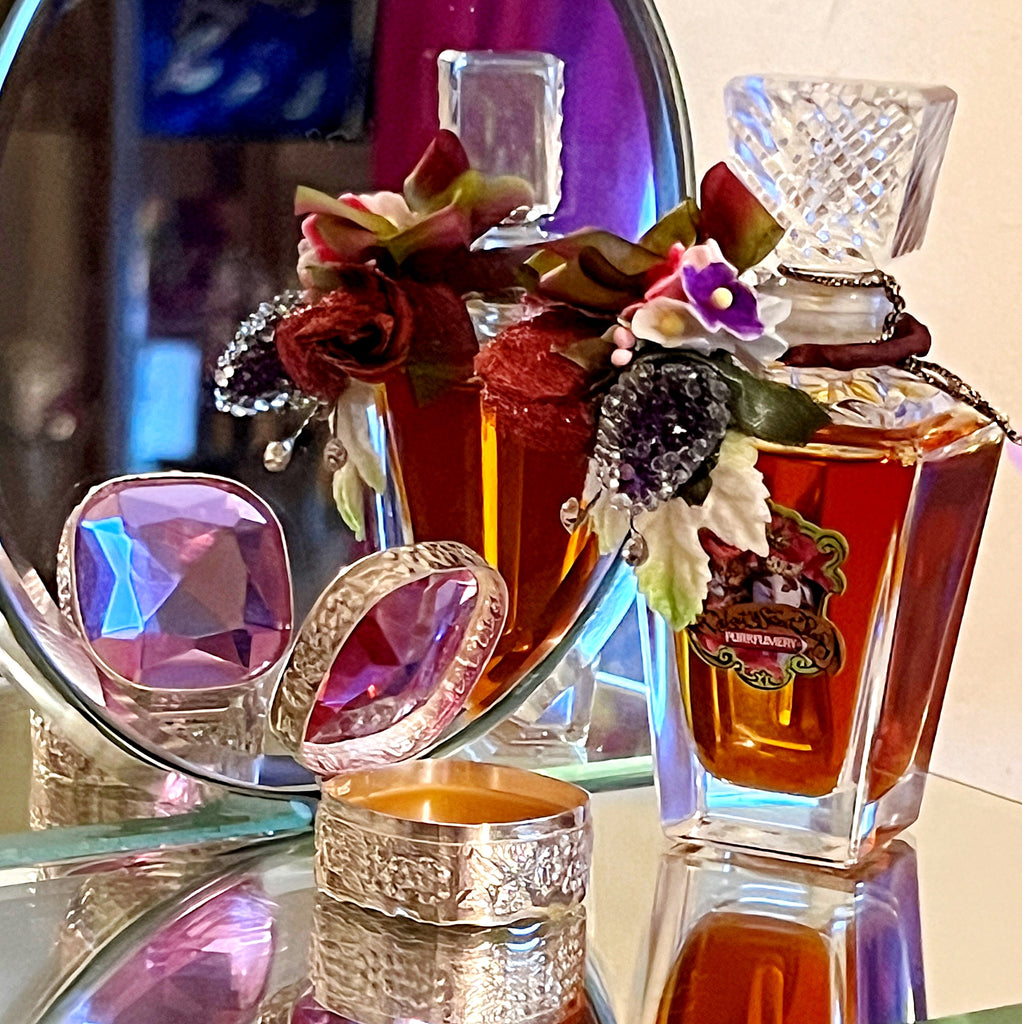 La Royale
$10,000.00
The ultimate Purrfumery experience, your adventure is set in an agreed upon exquisite luxury surrounding. The afternoon begins with a light lunch – set aside 5 hours for this incredible day that combines rare and epic scents! 
Discover scents from each of the tiers, as well as from Laurie's personal Treasure Chest of rare and antique essences – some of these materials will never be available again. You may select as many as 40 of these exquisite essences for your custom formulation. Imagine having your pick of Laurie's most extraordinary rose and jasmine distillations, Assam oud, antique sandalwood, rich antique cardamom and cinnamon…
Laurie will send you three formulations to try. Select your favorite and if you want a little more of one essence or another, you may request three revisions. The process of aging your perfume, sampling, and revising it is complete within 6 months.
This Custom Perfume Experience caters to the collector – to the perfume lover who relishes the intricate details of the Brosse French crystal bottle line, to Laurie designing delightful custom packaging just for you, including your own scent card!  You may enjoy your finished, signature scent in 6 separate Brosse crystal flacons – from 1/4 ounce to 1 oz. You will also receive 4 ounces in refills. With this incredible offering you also receive a crème perfume of your signature scent in four deluxe sterling jewel boxes.

Custom botanical perfumes take time- from the making of many different complex formulations to the aging process- where the individual molecules need time to marry. Laurie's perfumes have taken from a few months to a year. It's a deep meditative journey, and she just keeps working until the perfume tells her it's done! And when you make your final decision, and you receive your perfumes, it's best to wait a month or more to really begin wearing your perfume.
Your new treasures arrive indulgently packaged in bejeweled dupioni silk and velvet pouches, and one with hand-beaded semi-precious stones by Laurie. At the end of our adventure, Laurie presents you with a 3 antique style mirrored boudoir cases filled with your Velvet & Sweet Pea perfumes. Also included are other Purrfumery delights such as luxurious sandalwood and rose bath salts, rare crème perfumes blended from Persian Rose and antique sandalwood and jasmine, Laurie's famous Face & Body Frosting in your bespoke scent, and jasmine and orange blossom scented dark chocolate truffles.
La Royale Custom Perfume Experience: $20,000
Your 50% deposit (non-refundable) due before meeting. Balance is due at time of appointment. Minimum 48 hours cancellation. Not available for discount codes.
Velvet & Sweet Pea's Purrfumery is available to travel to deliver the La Royale Custom Perfume Experience. Please ask for details.
The Purrfumery Adventure and Custom Perfumes take place at the Perfumery unless contracted otherwise.