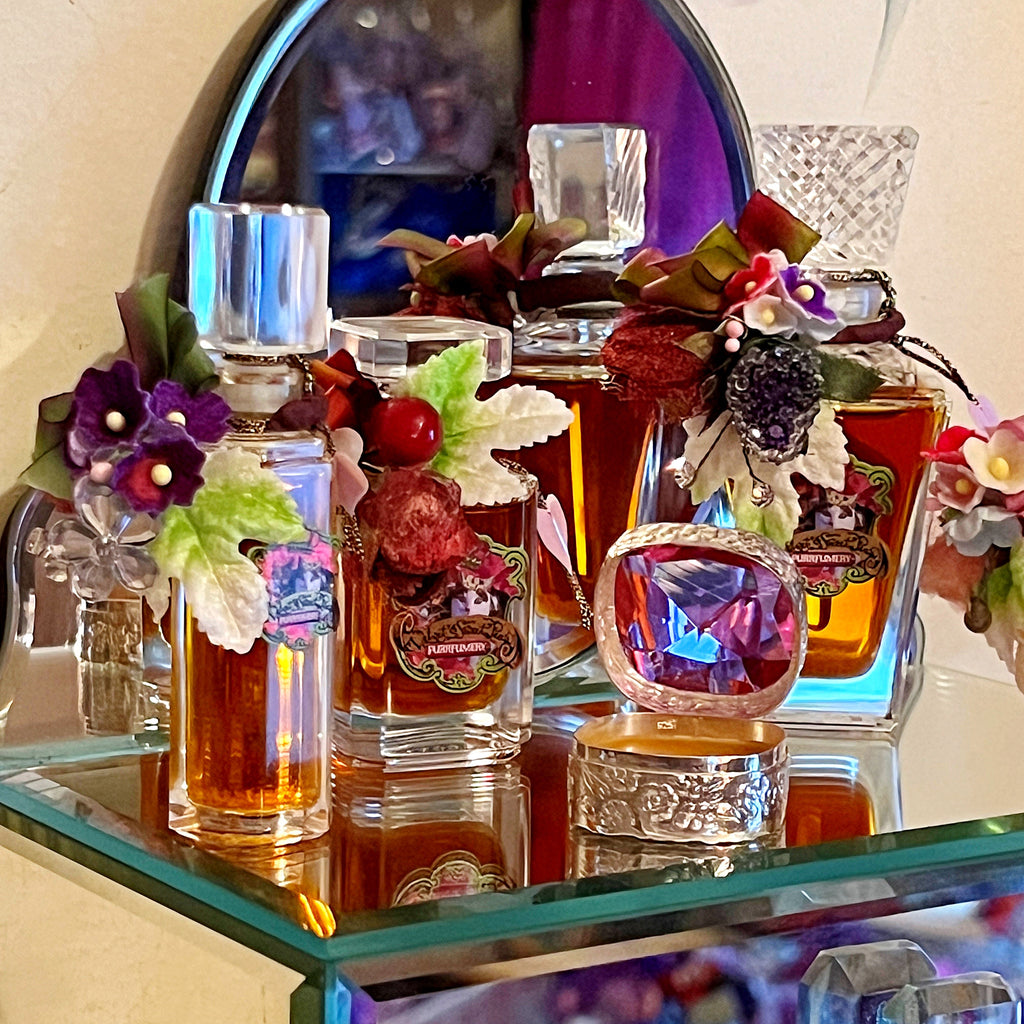 La Passionata
$3,000.00
Laurie invites you into her lush Perfumer's Garden for a light lunch and then into the Purrfumery where your adventure begins. Set aside 5 hours for this truly remarkable afternoon. You will experience each of the tiers and may select as many as 25 essences for your custom formulation. Imagine violet leaf, orris butter, osmanthus, Aglaia odorata, blue chamomile, oak moss, Bulgarian Rose Otto, topped with ruby red grapefruit…
Laurie will send you three formulations to try. Select your favorite and if you want a little more of one essence or another, you may request two revisions. The process of aging your perfume, sampling, and revising it is complete within 4-6 months. Enjoy your finished, signature scent in 2 separate 1 ounce Brosse crystal flacons, with a 1 oz refill. You will also receive your choice of 1/4 and 1/2 ounce Brosse flacons with your custom perfume and a crème perfume of your signature scent in a deluxe sterling jewel box. Laurie packages each of your luxurious delights in bejeweled dupioni silk and velvet pouches.
Custom botanical perfumes take time- from the making of many different complex formulations to the aging process, where the individual molecules need time to marry. Laurie's perfumes have taken from a few weeks to a year. It's a deep meditative journey, and she just keeps working until the perfume tells her it's done! Sometimes it can take longer than we think. And when you make your final decision, and you receive your perfumes, it's best to wait a month or more to really begin wearing your perfume.
When your perfume is finished, Laurie presents your perfumes to you in 2 exquisite vintage Art Deco style mirrored boudoir cases. Also included are Velvet & Sweet Pea pampering treats including luxurious perfumed bath salts, a gorgeous Face and Body Frosting with your custom scent and jasmine and orange blossom scented dark chocolate truffles. Velvet & Sweet Pea's Purrfumery is happy to bring La Passionata to you for a $1,000 travel and convenience fee.
La Passionata Custom Perfume Experience in the Purrfumery: $6,000.

La Passionata Custom Perfume Experience at another Bay Area location: $7000.
Refill costs vary according to the materials chosen.
Your 50% deposit (non-refundable) due before meeting. Balance is due at time of appointment. Minimum 48 hours cancellation. Not available for discount codes.
The Purrfumery Adventure and Custom Perfumes take place at the Perfumery unless contracted otherwise.