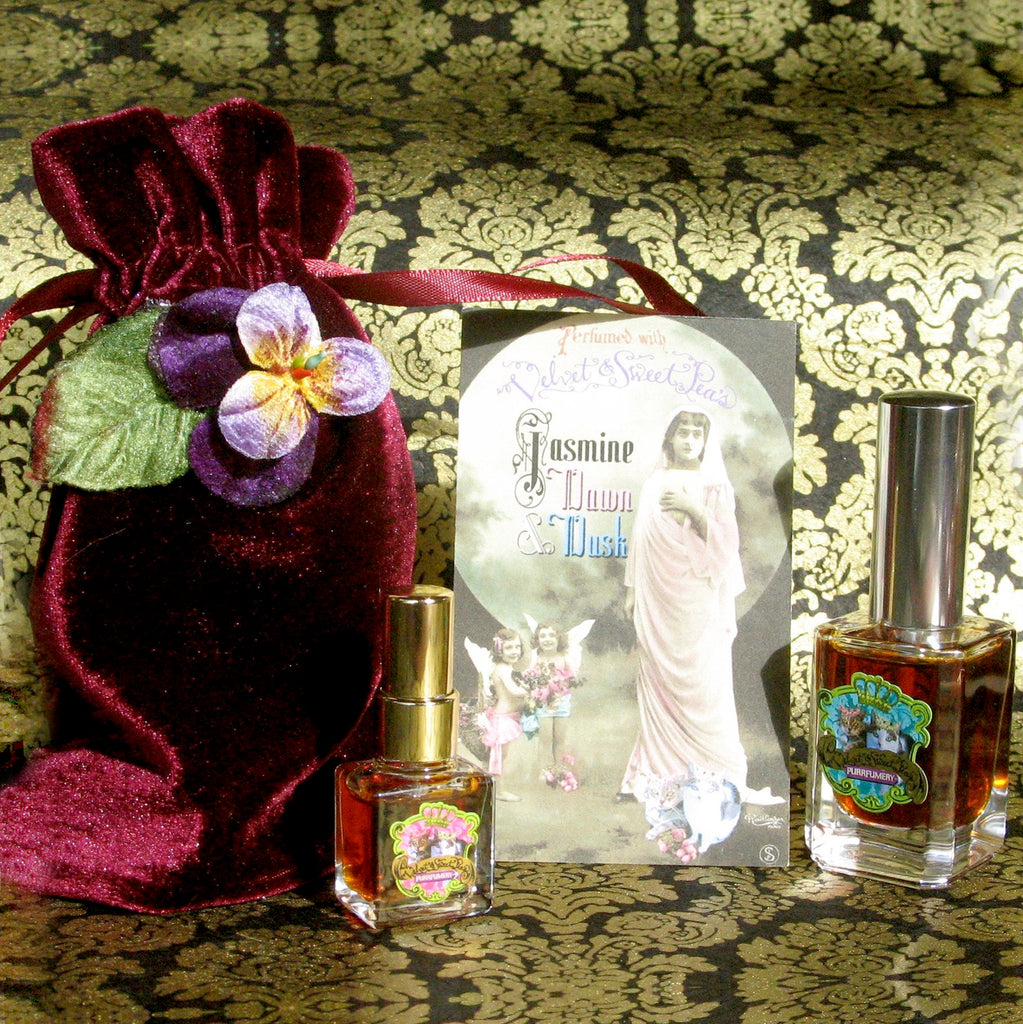 Jasmine Dawn & Dusk Organic Natural Perfume
$48.00
Three varieties of jasmine cast their spell in this sumptuous extrait de parfum. Night blooming, dawn blooming and gardenia-like jasmines unfold over time, revealing sweet bursts of blood orange, mandarin and ruby grapefruit. This hypnotic blend is set in a delicious base of vanilla, saffron and cinnamon infused organic alcohols and features rare Tamil Nadu sandalwood from India. Purchased by the perfumer nearly 20 years ago, Tamil Nadu is known for its exquisite warmth and a terroir that will never be available again.    
Liquid extrait de parfum is packaged in a Verrieres Brosse crystal bottle and tucked into a dupioni silk pouch. The solid perfume is packaged in a custom-designed, limited edition sterling silver jewel box and placed in a silk and velvet pouch with a rhinestone buckle. The finishing touch is a Victorian scent card that captures the spirit of a time when even the advertisements were little works of art.

Extrait de parfums and solid perfumes are made in small, hand-crafted batches and include a vintage number.

Notes: Three varieties of jasmine, blood orange, mandarin, ruby grapefruit, vanilla, antique cinnamon, sandalwood.

*All of the sandalwood and vanilla that I use was purchased nearly 20 years ago. I have not purchased any more since then as these species have become threatened, and in some cases endangered, because of overharvesting according to Red List Project.
Laurie's Feeling Notes: Three unique jasmine flowers, all very sumptuous and narcotic, make me feel deeply relaxed and serene.
Testimonial
When the tornado sirens started wailing in the middle of the night, I grabbed my Kindle, my iPod, my Jewelry of Heaven, and my Jasmine Dawn & Dusk! Thank you for making perfumes so good that I literally wouldn't want to live without them!
Tammy S.