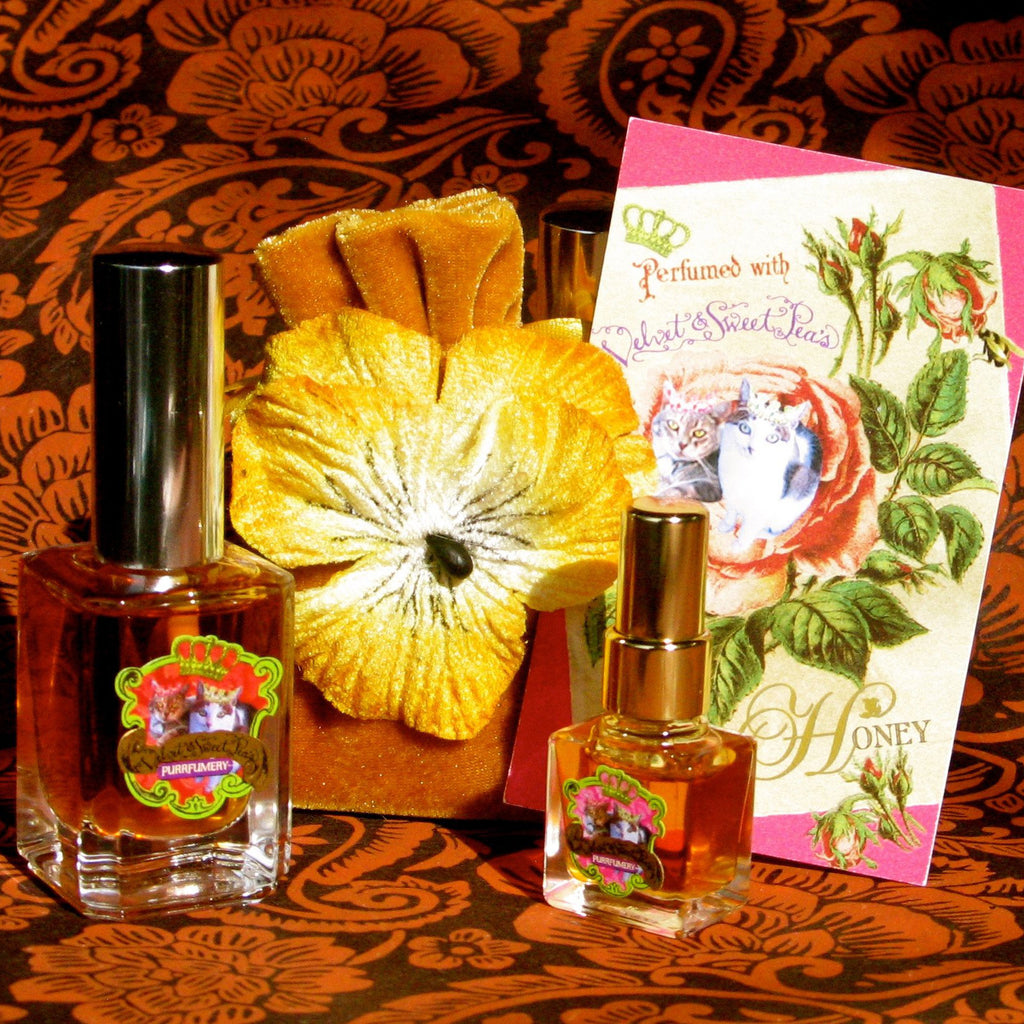 Honey Organic Botanical Natural Perfume
$48.00
All hail to the queen bee!
The sweet partnership between flowers and bees begins with an elaborate dance and finishes with Honey extrait de parfum, one of the Purrfumery's best-selling Signature Scents. This opulent parfum features French orange blossom and Moroccan and Bulgarian roses on a throne of deep vetiver and Madagascar vanilla. Crowned with rare antique clove, pomegranate and pink grapefruit, Honey is set in a rich base of rare aged sandalwoods, including Tamil Nadu from India. Purchased by the perfumer nearly 20 years ago, Tamil Nadu is known for its exquisite warmth and a terroir that will never be available again.
Honey is diluted in organic, vanilla-infused alcohol. Liquid extrait de parfum is packaged in a Verrieres Brosse crystal bottle and tucked into a dupioni silk pouch. The crème parfum is packaged in a custom-designed, limited edition sterling silver jewel box and placed in a silk and velvet pouch with a rhinestone buckle. The finishing touch is a Victorian scent card that captures the spirit of a time when even the advertisements were little works of art.

Extrait de parfums and solid perfumes are made in small, hand-crafted batches and include a vintage number.
Notes: French orange blossom, Moroccan and Bulgarian roses, vetiver, Madagascar vanilla, honey absolute, clove, pomegranate, pink grapefruit, sandalwood.
*All of the sandalwood, and vanilla that I use was purchased nearly 20 years ago. I have not purchased any more since then as these species have become threatened, and in some cases endangered, because of overharvesting according to Red List Project.
Laurie's Feeling Notes: I made this perfume when I was experiencing a great loss and it helped me enjoy the sweetness of life again. I used many essences that attract bees to pollinate them, and I always feel yummy and nibble-able in this perfume!
Review-

"Honey" is a completely erotic masterpiece of blended orange blossom, roses, vetiver, vanilla , honey , beeswax and propolis finished with rare antique clove, pomegranate and pink grapefruit. It is bewitching, a bottled love potion and how you unleash it is up to you. I personally love it when worn in my hair, cleavage and inner thighs. It warms up as you do and becomes sweeter with your heat. It has an energy all its own and I love it because I can wear it during the day, yet it becomes completely captivating at night. It's one of those fragrances that draws a man towards you like a honeybee to pollen. Quite frankly, my husband didn't know what hit him but he was delighted to be completely spellbound. The first time that he noticed it, I was going on and on about Laurie and her perfumes and her cats. He took one look at me, nipped my catnip scented wrist and proceeded to kiss me in a way that made my knees weak. Enough said. She truly has the gift.
-Beth Schreibman Gehring, Perfume-Smellin'Things
Honey Story
In 2008, I created a honey perfume based on the flowers that bees naturally gather their nectar from, along with tinctures I made with propolis and wax from the behives in my garden. One summer, a swarm of bees arrived in our garden. Awed, I called a local beekeeper to remove the swarm.  He explained the bee swarm to me instead. I learned that swarming is the way bees multiply. Half of an old hive travels with a newly made queen in search of an ideal environment for a new hive.   I felt honored that the bees had chosen my garden for their new home and I knew wanted them to stay.  I asked the beekeeper if he would teach me more about bees and help me build hives for them.  He did - and the bees have stayed! I am continually in awe of the bees who grace my garden.  To me, they are an affirmation of the cycles of life and of life's sweetness.  Our first honey harvest produced the most delicious honey I have ever tasted, and this year, 2114, our honey won "Best of the East Bay" at the Berkeley Biodiesal Oasis Harvest Festival! Now, I eat a little honey everyday!
Pomegranate a

nd Honey
I have chosen the essence of this ancient fruit with it's jewel like seeds to crown my honey perfume. There is a pomegranate tree just behind the beehive in my Perfumer's Garden. I have come to associate the queen bee with the pomegranate that wears its own little crown. Depictions of the Ancient Greek goddess Hera, show her wearing a pomegranate crown rather than a wreath or a tiara. Pomegranates are also central to the Greek myth of Persephone who went deep into the underworld for the darkest six months of the year. This dark time helped her discover her own hidden wisdom. She emerged in spring with her new found gifts of transformation, freedom, and rebirth. Combining floral and honey essences along with essences that are deeper and darker is how Honey Perfume came to be. I had an anguishing loss in the year that I created Honey perfume, and when I emerged from the darkness, Honey helped me celebrate the sweetness of life!