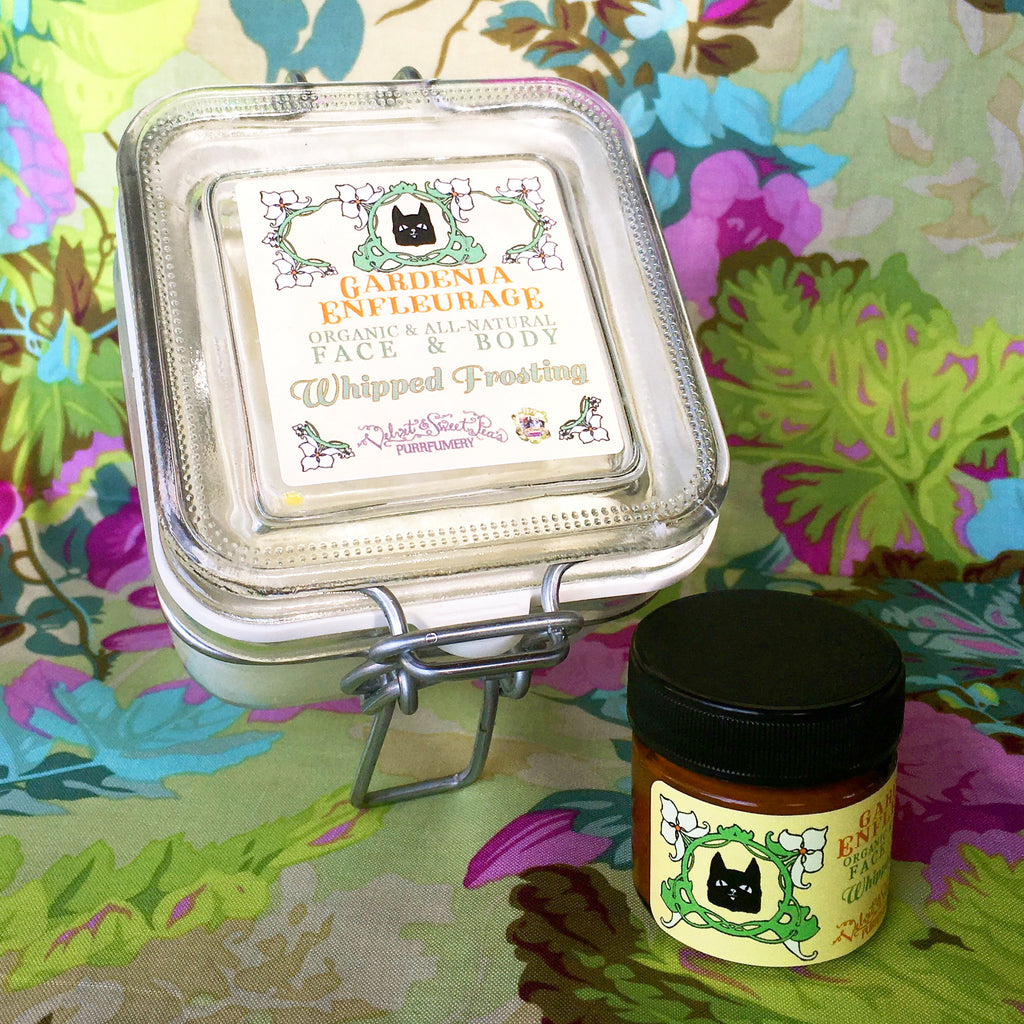 Gardenia Whipped Face & Body Frosting
$40.00
The ultimate moisturizing treat for the skin. Laurie uses an ancient perfumery technique to capture the gardenia's fragrant oils directly, rather than extracting or distilling them. Her process takes two weeks and uses more than 150 hand-picked gardenias. The result is fragrant and transporting moisturizer that is absolutely luxurious and unlike anything else currently being produced.
Velvet and Sweet Pea's Frostings are whipped to a decadent, creamy texture, but our all-natural ingredients may lose volume when exposed to high heat. Because of this we will not be shipping frosting during the hottest months, and we recommend that you keep your frostings in the fridge during the hottest part of summer. If you live in an area of the US that is usually above 70 degrees in the winter, we don't recommend purchasing.
The Frostings are available at the Purrfumery all year, so you can make an appointment and stop by to pick them up!
Reviews~
I was assigned to nurse a ninety-six year old Greek woman, Mrs. T, who was severely impaired physically and could only communicate by stroking, patting, or gesticulating with her right hand. She vocalized periodically but not intelligibly – and her English was non-existent, so our communication was primarily sensory in nature. This lovely woman had a devoted daughter and sons who kept a continuous bedside vigil and acted as translators for me in a pinch. It was they who told me about her garden back home, how dearly she missed it – especially her gardenias, which were her favorite flower. She lamented the loss of her gardenias above all the other changes to which she had to accommodate when moving to America to live with her grown children and grandchildren
What is like a real gardenia? I had sequestered a very small jar of laurie Stern of Velvet & Sweet Pea's Purrfumery's rare Tuberose and Gardenia Enfleurage Face & Body Whipped Frosting: the enfleurage alone takes well over a year to produce, then is combined with luxurious oils suitable for massage, even for delicate complexions. I went home, scooped out some and brought it in the next day. While I bathed her, I tenderly massaged her face with the gardenia-infused cream, much to her delight. How do I know this? Because she began to moan with pleasure, her facial features arranged blissfully. She rolled her eyes back and grabbed my arm, stroking it over and over, sighing deeply. She reached for my hand and squeezed it tightly, reluctant to let me go. I was genuinely thrilled that such a simple gesture could make her happy.
When you consider that gardenia jasminoides (G.grandiflora) indeed possesses a similar compound to jasmines which mimics the effects of Valium without the 96-hour half-life and side effects, it makes a great deal of sense. GABA, the fear and anxiety neurotransmitter/chemical messenger – serves to help control overexcited neurons; benzodiazepine medicines such as Valium and Librium are frequently utilized to calm the jangled nerves.   Science backs up what seems evident to us.
Ida Meister, CaFleureBon
Laurie Stern has been making hand made luxury creams delicately perfumed with natural fragrances for many years, and indeed she is one of the original figures of the California natural products movement. With all that experience and history, she continues to be a true Romantic, and carefully makes exquisite products for the face and body, perfumed with the products of enfleurage; that labor intensive process that draws out the fragrance of plants and flowers with organic fats and oils of the highest quality. She has an amazing beautifully grown out garden and worked for some years past as a florist herself, and she shows a great discernment in the specific quality of the floral essences in her beauty products.

The texture of the  Gardenia Face and Body Whipped Frosting makes this incredible tiny crackling sound as you spread it on your face as the tiny bits of air trapped in the rich cream are released and mix and effervesce and release the subtle fully natural fragrance within.  I am sure the fresh hand picked gardenia flowers thus reaching your mind will have beneficial qualities quite apart from being beautiful. This is ultra rich and sinks in and re-moisturizes it to the core.  Made of several kinds of precious oils and shea butter, all organic with vitamin E, I would recommend keeping it in the fridge between uses.  She also offers the Organic Gardenia Enfleurage separately. 

Lucy Raubertas, Indieperfumes blog