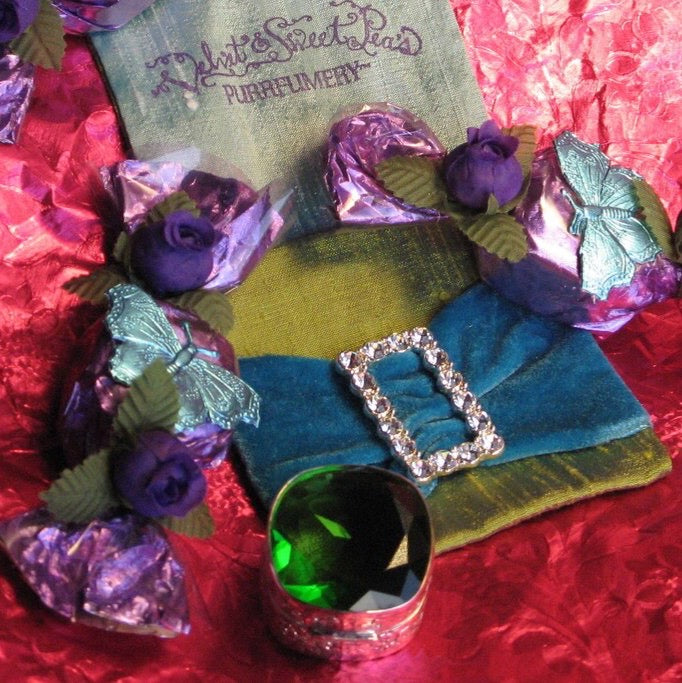 Fleur de Caramel Solid Perfume
$425.00
An award-winning perfume that has been described as "gorgeous, spellbinding and edible…" Fleur de Caramel is a limited edition scent that features a warm caramel accord with rich cognac and sultry, night-blooming frangipani, jasmine and tuberose. Laurie used some of the most exquisite and rare materials in the world to create Fleur de Caramel, including white ginger lily and Tamil Nadu sandalwood. Purchased by the perfumer nearly 20 years ago, Tamil Nadu is known for its exquisite warmth and a terroir that will never be available again.
Fleur de Caramel is an indulgent treasure to savor slowly, from its tart red mandarin and white ginger lily opening to a scrumptious finish as the perfumer's secret caramel accord lingers on the skin.

The solid perfume is packaged in a custom-designed, limited edition sterling silver jewel box and placed in a silk and velvet pouch with a rhinestone buckle. These boxes are custom-designed with very limited availability. They can be re-filled or re-used once the luscious contents are finished. All solid perfumes are made with organic jojoba oil and beeswax from the Purrfumery's own beehives.

The finishing touch is a Victorian scent card that captures the spirit of a time when even the advertisements were little works of art.
Extrait de parfums and solid perfumes are made in small, hand-crafted batches and include a vintage number.

10ml solid perfume.
Notes: Caramel accord, cognac, frangipani, jasmine, tuberose, white ginger lily, sandalwood.

*All of the sandalwood and vanilla that I use was purchased nearly 20 years ago. I have not purchased any more since then as these species have become threatened, and in some cases endangered, because of overharvesting according to Red List Project.
Laurie's Feeling Notes: I feel yummy, edible, and delicious in this perfume!
Reviews
"We cannot all be in Grasse, Firenze, Tunisia, Savannah or Southern California—but when we inhale Fleur de Caramel, we may as well be."

-Ida Meister, Fragrantica
"Velvet & Sweet Pea's Purrfumery fragrances are lavish and decadent, and they always make me feel like putting on lipstick. Fleur de Caramel is a perfect gateway to both natural  and gourmand fragrances.  The caramel is discernible, but not in the least bit overwhelming. It plays very nicely with the floral notes, and brings back childhood memories of making pralines with my aunts, their various perfumes blending beautifully with the sweet buttery goodness permeating the kitchen. Those who love gourmands will not want to miss this, but it's also a great perfume for someone like me, who is always fearful of veering off into Little Debbie Snack Cake territory. ine dances in and out for a while, enhancing the flowery note, while keeping the tuberose from making a fool of herself.  In fact, all of these Big White Flowery ladies are about to be completely shown down by the smoothest, silkiest caramel note you will ever experience.
The caramel slides in unobtrusively; you may even think that it's the tuberose trying to butter you up. But the warmth and richness is unmistakable and it will soon become apparent that this is caramel at its finest. The sweetness is warm and sultry; it never gets too sugary.  There is a buttery, almost boozy quality to the caramel that melds perfectly in to Laurie's incomparably sumptuous base of sandalwood and Tahitian vanilla (Note to Uncle Serge; it is possible to make a glorious base without the use of prunes and cherry cough syrup.

One final observation to share with you; last night, I found myself surrounded by the most luscious tropical scent as I was taking my shower.  I was sudsing up with Grandpa's Pine Tar soap (judge not!), which I knew could not possibly be the source of the fragrance, and almost all of the other gels and soaps I keep in the shower are rose-based. I couldn't imagine where the scent came from until I went over the notes of Fleur de Caramel and saw frangipani. Indeed, and such a gorgeous surprise 12 hours after I first applied the perfume.  That little extra boost aside.

I get about 6 hours of the complete fragrance, which is amazing for an all-natural perfume. The base remains even longer. The sillage is decent; you won't overpower anyone, but those standing near you will be glad they are. I highly recommend dabbing this on those places you'd li ke that special someone to linger over. This is a fragrance made for pleasing and being pleased!"

-Tammy Schuster, CaFleureBon, 2015