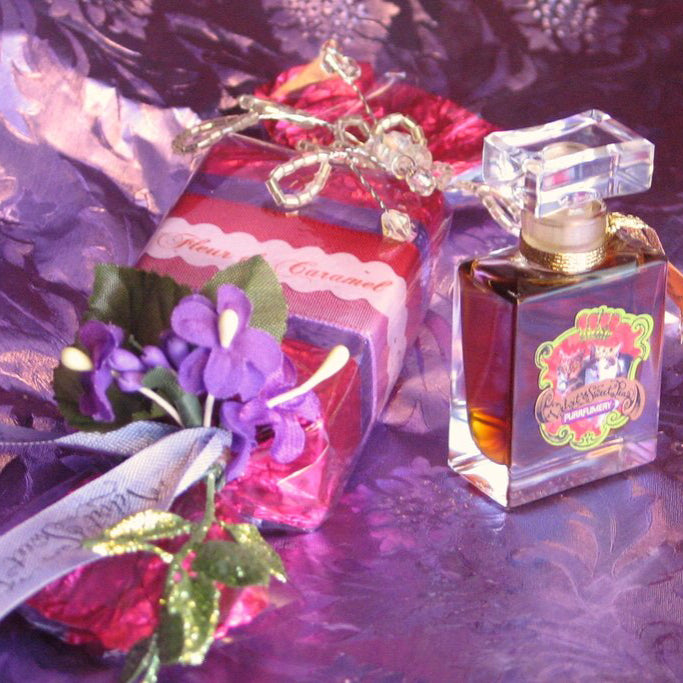 Fleur de Caramel Organic Natural Perfume
$65.00
An award-winning extrait de parfum that has been described as "gorgeous, spellbinding and edible…" Fleur de Caramel is a limited edition scent that features a warm caramel accord with rich cognac and sultry, night-blooming frangipani, jasmine and tuberose. The perfumer used some of the most exquisite and rare materials in the world to create Fleur de Caramel, including white ginger lily and Tamil Nadu sandalwood. Purchased by the perfumer nearly 20 years ago, Tamil Nadu is known for its exquisite warmth and a terroir that will never be available again.
Fleur de Caramel is an indulgent treasure to savor slowly, from its tart red mandarin and white ginger lily opening to a scrumptious finish as the perfumer's secret caramel accord lingers on the skin.

Liquid extrait de parfum is packaged in a Verrieres Brosse crystal bottle and wrapped like whimsical, exquisite candy. The solid perfume is packaged in a custom-designed, limited edition sterling silver jewel box and placed in a silk and velvet pouch with a rhinestone buckle. The finishing touch is a Victorian scent card that captures the spirit of a time when even the advertisements were little works of art.
Extrait de parfums and solid perfumes are made in small, hand-crafted batches and include a vintage number.

Notes: Caramel accord, cognac, frangipani, jasmine, tuberose, white ginger lily, sandalwood.
*All of the sandalwood and vanilla that I use was purchased nearly 20 years ago. I have not purchased any more since then as these species have become threatened, and in some cases endangered, because of overharvesting according to Red List Project.
Laurie's Feeling Notes: I feel yummy, edible, and delicious in this perfume!
Reviews~
Fleur de Caramel inebriates.
Cognac, frangipani, jasmine, tuberose, Tamil Nadu sandalwood, Tahitian vanilla base…red mandarin, spicy butterfly lily—what are you waiting for? I sniff and sniff my hand some more, I have no desire to wash my hand, if I can help it. [It's a good thing I can forestall bathing for awhile, because there is good longevity to this perfume, and I don't want to waste the few precious drops I've got.]
Floral Generosity is at the heart of Fleur de Caramel.

If summer sang, it might sing this, the song of respite and repose among the blossoms, an ease of spirit and leisurely pace. We cannot all be in Grasse, Firenze, Tunisia, Savannah or Southern California—but when we inhale Fleur de Caramel, we may as well be. ;-)
Indulgently fulsome, languorous and sensual: it feels like dolce far niente to me. Laurie Stern's work is certified by Leaping Bunny, a coalition of eight animal rights protection groups, which assures that no animal testing is a given. There are absolutely no animal musk or fixatives in her perfumes; she uses organic grape alcohol and jojoba oil in her products as well as beeswax from her own bees.

At the recent Artisan Fragrance Salon in San Francisco, Fleur de Caramel walked off with the Gold Award for Best All-Natural Scent—along with multiple other awards.
Ida Meister, Fragrantica
I'm wearing it right now and it is gorgeous, spellbinding and edible. All of my favorite notes are here in a yummy caramel accord that she's created of night blooming frangipani and cognac, jasmine, tuberose and a very rare sandalwood that she's kept for ages just waiting for the right perfume to unleash its magic. Fleur de Caramel opens sweetly on my skin with a kiss of something tropical, but then very quickly melts into a rich, gooey pool of buttery brown sugar, falernum and spiced rum.  This is one of those "heaving cleavage", very sensual perfumes that my husband loves.
I took it to Castine, Maine on vacation with me and wore it every day. The warm and salty Atlantic air morphed it into a "Fleur de sel Caramel" which got better by the hour. My husband took one sniff and went all Captain Jack Sparrow on me.   Thank you Laurie…

Beth Schreibman Gehring, The Perfume Magazine