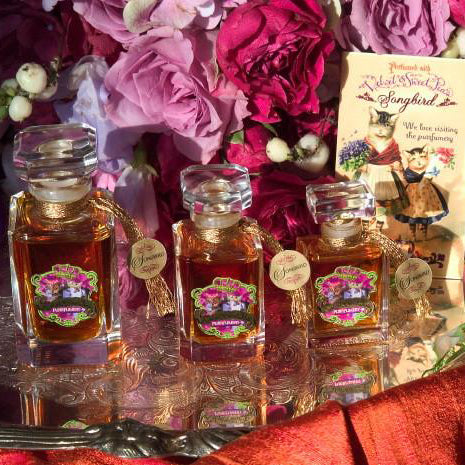 Songbird Organic Natural Perfume
$48.00
A luscious, mouth-watering blend of citrus, spices, and sweet, narcotic flowers sensually unfurls towards a soft, powdery finish. Antique cinnamon, blood orange, tuberose, and rare Boronia are only a few of the notes in this sexy, complex melody.
Songbird features rare Tamil Nadu sandalwood from India. Purchased by the perfumer nearly 20 years ago, Tamil Nadu is known for its exquisite warmth and a terroir that will never be available again. This ambrosial blend of flowers, citrus and woods is warmed by a base of Tahitian vanilla-infused alcohol. Liquid extrait de parfum is packaged in a Verrieres Brosse crystal bottle and tucked into a dupioni silk pouch. The solid perfume is packaged in a custom-designed, limited edition sterling silver jewel box and placed in a silk and velvet pouch with a rhinestone buckle. The finishing touch is a Victorian scent card that captures the spirit of a time when even the advertisements were little works of art.

Extrait de parfums and solid perfumes are made in small, hand-crafted batches and include a vintage number.

Notes: Blood orange, Mexican lime, tuberose, Boronia, Italian neroli, 100-year old antique cinnamon, sandalwood, frankincense.

*All of the sandalwood, frankincense, and vanilla that I use was purchased nearly 20 years ago. I have not purchased any more since then as these species have become threatened, and in some cases endangered, because of overharvesting according to Red List Project.
Laurie's Feeling Notes: A few of my favorite feelings… Boronia and blood orange makes me feel uplifted; tuberose makes me feel soothingly sensual; and sandalwood makes me feel very relaxed. And cinnamon is known for reducing anxiety. This is the scent that helps me feel confident and happy when I'm anxious.
The crème perfume arrives in a custom-designed tourmaline-pink jewel box, tucked into a bejeweled dupioni silk and velvet pouch with its own Victorian scent card. These boxes are custom-designed with very limited availability. They can be re-filled or re-used once the luscious contents are finished. All solid perfumes are made with organic jojoba oil and beeswax from the Purrfumery's own beehives.

Review-

Juicy blood orange is the entree to Songbird, reminiscent of the fruit dripping in its perfectly ripened sweetness. This opening is most succulent and reminds me of Laurie's Orange Blossom Body Frosting -a decadent treat for the skin and soul- and I hoped Songbird would linger in this familiar scent for the duration. I so enjoyed the floral and gently spicy citrus aroma wafting about me, but sometimes it's better to not have your wishes come to fruition as what laid before me was much more fullfilling that anything I could have hoped for.
-Trish Vawter, Scent Hive
The story of Songbird-
About 17 years ago I was making a custom perfume for a friend and I had her smelling scent strips of my many aromatic treasures. I had a pile of the ones she loved and another pile of the ones she didn't love. After  making my notes on the ones she loved , I picked up the pile that were not her favorites and sniffed them just as an afterthought.  I loved it! Instead of working on her custom perfume, I was much more compelled to start playing with the rejected pile. I worked on it for a few months and was delighted to come up with Songbird! It was spring and the songbirds were singing wildly outside the Purrfumery window and I was listening to a lot of Emmylou Harris and Lucinda Williams on my CD player. It has rare boronia, antique Ceylon cinnamon, nutmeg, orange blossom, frankincense, sandalwood and many other essential oils and absolutes. I actually presented her this perfume and she went crazy over it! She's gone through several ounces of it by now and we laugh about it. I still haven't made her other perfume!
I like the idea of making something beautiful out of rejection or so called failure.  Also trusting my intuition and knowing that nothing gets thrown away ( metaphorically), because it's all part of the delicious process.
I hope all of this makes sense to you! I probably wear Songbird the most of any of my perfumes, I love it's juicyness and it always lifts my spirits.
It's also the first perfume that I made that made me feel like I could call myself a perfumer.  It was a big moment for me. I loved it every time I put it on and I knew inside it was good! It's gone on to be one of my best sellers too.  But I needed to know it for myself first.