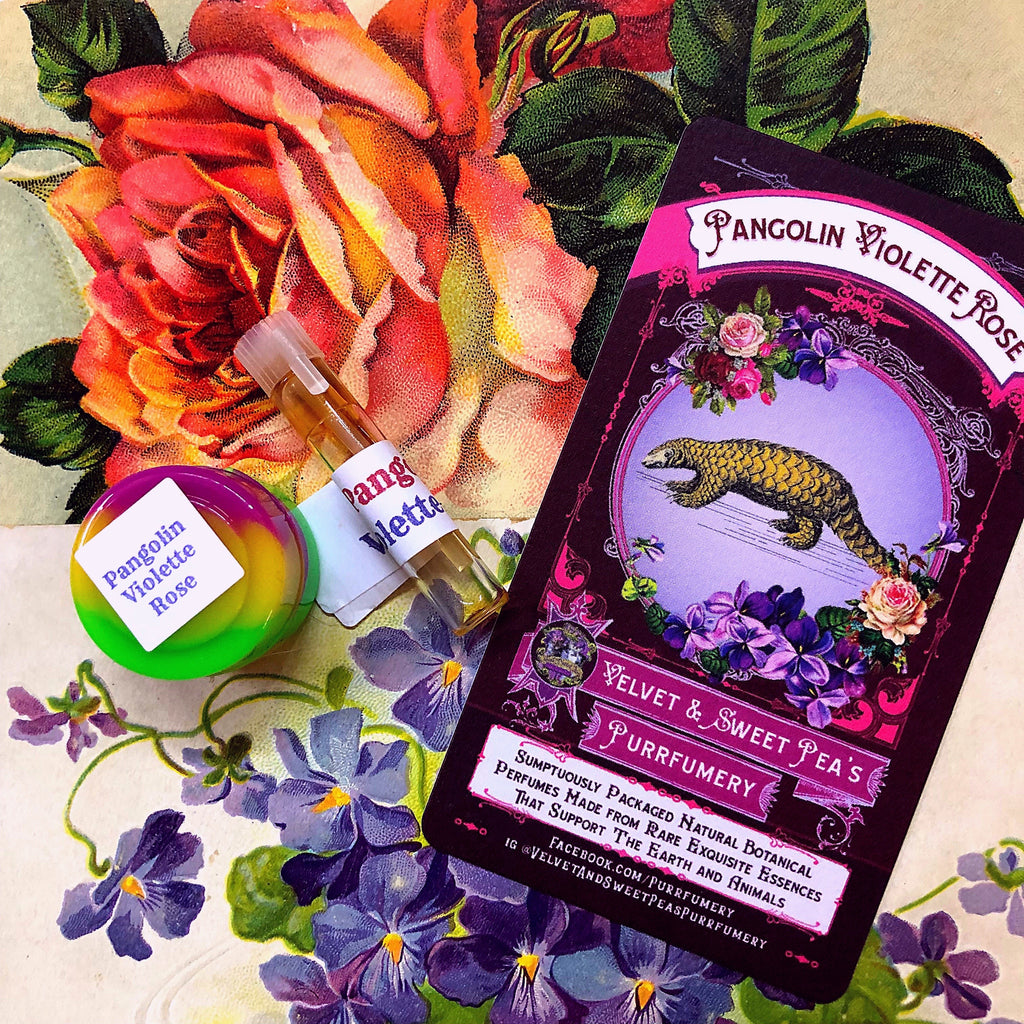 Pangolin Violette Rose Samples
$10.00
Pangolin Violette Rose is my second limited edition perfume dedicated to helping endangered species come back and thrive in the world we all share. Pangolin Violette Rose opens with jasmine auriculatum and jasmine sambac and has top notes of candied violet. A little carnation absolute gives the top note some richness, and then the scent blooms into a complex bed of roses. Indian Rose Edward is jammy and lush and Persian Rose Otto has a candy-like appeal. As the scent blooms on the skin, the roses turn sultry and rich with Bulgarian rose absolute and Otto and Turkish rose absolute. Egyptian violet leaf absolute commingles with the roses, bringing them even deeper, and a touch of cocoa absolute adds a little bonbon. The perfume rests on a throne of aged Tamil Nadu and New Caledonia sandalwood. As time passes, the orris absolute and orris concrete linger with a dusting of powdery gorgeousness. I set all these magical, rare natural materials in a base of 20-year aged Tahitian vanilla-infused biodynamic grape alcohol.
I love this perfume and for me, it's a testament to the magic of naturals. The solid is more violet leaf – more deep and green – and the liquid is more rose-powdery. This is the alchemy of working with oil and alcohol, and that's what the violets, irises and roses decided to do! You may decide you like both for different occasions, and indulge in the solid and the liquid.
Pangolin Violette Rose is a pinnacle of creativity for me – it is a collector's item, a gift from the inside out, with packaging that includes my letter-pressed artist statement on the ribbon, and bottles bedecked with vintage flowers. I hand-blended the liquid parfum in a small batch using the most exquisite and rare materials available, and once it's gone, it's gone forever. The solid is a little more plentiful, but not by much… 
I donate a generous portion of the proceeds from Pangolin Violette Rose to the Pangolin Crisis Fund.
This group, led by Paul Thompson, a conservation biologist, raises money and pays for projects that are working to reduce demand, enforce anti-poaching laws, and raise awareness about the threat to pangolins. The Pangolin Crisis Fund started with $100,000 in 2019 and have a goal to raise $1.5 million by the end of 2021. 
The Pangolin Crisis Fund also supports the Tikki Hywood Foundation, a Zimbabwe-based conservation group with a wildlife center that runs 24 hours a day! Tikki Hywood's mission is to rescue pangolins from poachers and from illegal bushmeat markets. Once they've rescued the pangolins, they rehabilitate them and bring them back to the wild where they belong.
The sample includes a small solid perfume and a liquid perfume.