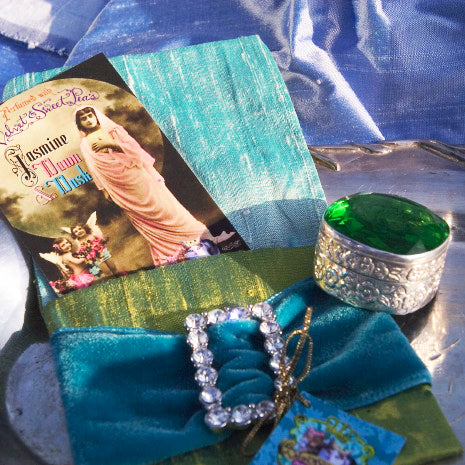 Jasmine Dawn & Dusk Solid Organic Natural Perfume
$65.00
Scent notes: Night blooming, dawn blooming and gardenia-like jasmines cast an enchantment that unfolds over time with sweet bursts of blood orange, mandarin and ruby grapefruit. 
*All of the sandalwood, frankincense, and vanilla that I use was purchased nearly 20 years ago. I have not purchased any more since then as these species have become threatened, and in some cases endangered, because of overharvesting according to Red List Project.
Laurie's Feeling Notes: Three unique jasmine flowers, all very sumptuous and narcotic, make me feel deeply relaxed and serene.
This blend is set in a rich base of Tahitian vanilla infused organic jojoba oil, and the Purrfumery's own beeswax.
The sumptuous solid perfume comes in a limited-edition custom-designed aquamarine sterling silver jewel box and tucked into a bejeweled dupioni silk and velvet pouch with its own Victorian scent card.
These boxes are custom-designed with very limited availability. They can be re-filled or re-used once the luscious contents are finished.
All solid perfumes are made with organic jojoba oil and beeswax from the Purrfumery's own beehives.

10ml solid perfume.