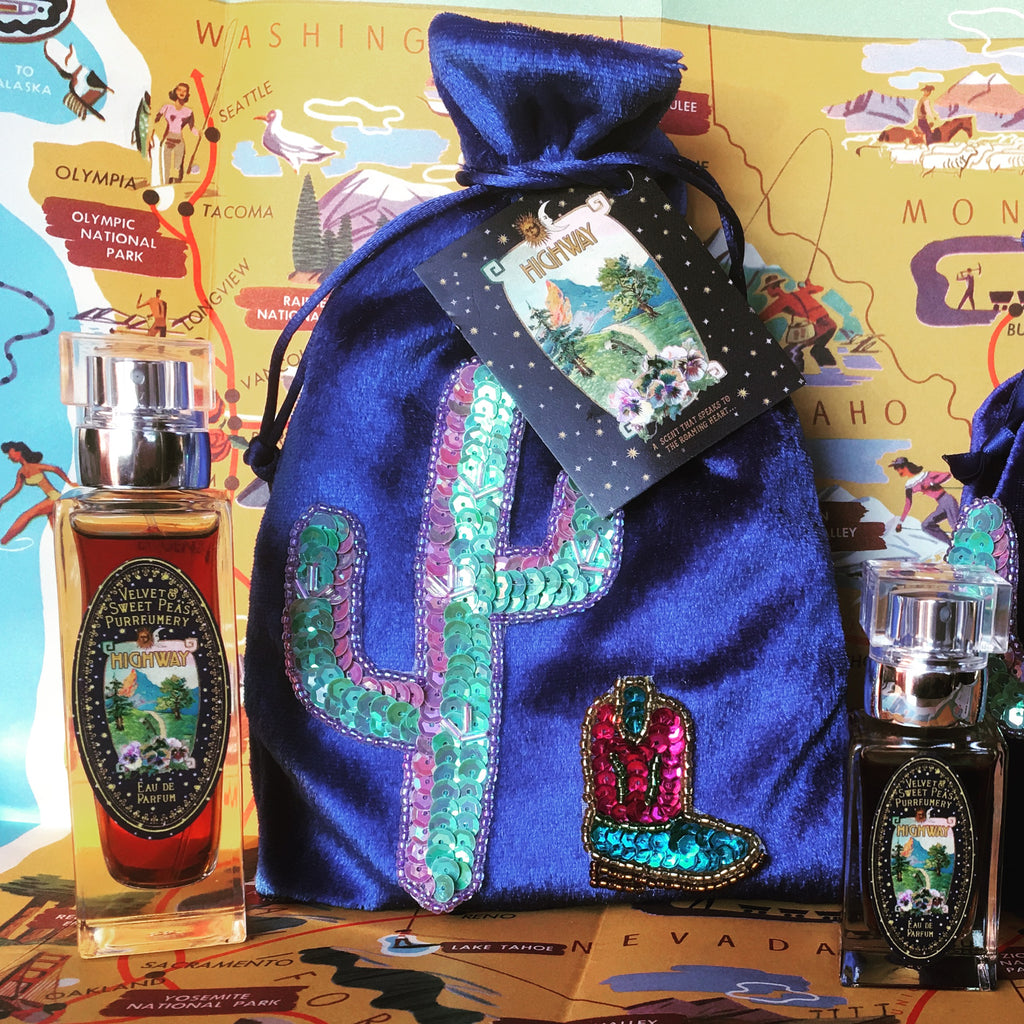 Highway Organic Natural Perfume
$48.00
A scent that speaks to the roaming heart
With this new limited edition eau de parfum scent, Laurie uses a scented language to express her passion for life, love, and the wanderlust that we all feel now and again.
"I'm evoking new beginnings with this perfume," Laurie says. "I'd been listening to The Highwayman, a song sung by Willie Nelson, Johnny Cash, Waylon Jennings, and Kris Kristofferson… It's a song about reincarnation and life's changes and heartbreaks. That rambling, roaming change and the fluid nature of our lives is at the heart of this perfume."
Scent notes: A winding road of citrus, berries, cedarwood, vanilla, and blue spruce.
*All of the frankincense and vanilla that I use was purchased nearly 20 years ago. I have not purchased any more since then as these species have become threatened, and in some cases endangered, because of overharvesting according to Red List Project.

Laurie's Feeling Notes: I feel very grounded from the Frankincense and labdanum and uplifted from the neroli. I made this perfume when I was in a very lost place and wanted to use materials that are difficult to work with. Highway restored my confidence!
Reviews
"Highway"  is a perfume that speaks to the romantic, restless part of all of us that longs to be swept away, to sit by an open fire in the Scottish highlands drinking fine whisky or making love under the stars on a gently swaying sail boat that's dropped its anchor somewhere far from prying eyes. It's learning to tango and rekindling the passion with your partner that's been hidden away in your everyday life of diapers and dishes. It speaks to faraway lands and far away lifetimes and the promise that if we breathe deeply enough and are willing to risk everything that we think that we are, that we can recreate ourselves to become the very person that we've always longed to be.
I get that this is a whole lot of promise for one little bottle of perfume, but synergistically that's the way that this scent works. Laurie Stern works only with the finest botanical essences and many of them are extremely rare and very very old,  which is why her finest perfumes are limited editions. Most of them are accords that you'd never have the privilege of experiencing any other way.  Her "Highway" is the story of the long, passionate and winding road of life, as told by one of the most skilled perfumers alive today and it's impossible to smell it and not have it evoke a deep excitement and lust for life.

-Beth Schreibman Gehring, Perfumerotica 2016

Laurie is, first and foremost – a lifelong gardener, floral arranger, floral artiste. Her orientation, her very being is guided by the botanical world, and Highway sings to the natural beauty of those fruit/floral essences with very tender underpinnings of cedar and spruce and excellent vanilla. It is a seamless web of wistful longing cloaked in mystery.
Highway is a warm, generous perfume; I've actually never smelt a cold one from Laurie's coffers. I can't imagine anything of The Snow Queen in her repertoire, likely because the perfumer herself radiates a genuine expansiveness which spills over into the body of her work: voluptuous, joyous, luminous.
-Ida Meister, Fragrantica, 2016