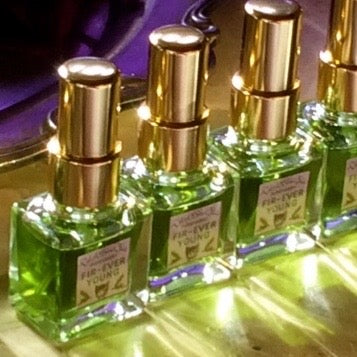 Fir-ever Young Organic Natural Perfume
$45.00
There is only a very small amount left of this precious perfume. I started it 21 years ago and 11 years ago I decided it was finished. I added so many distillations to it that it can never be reproduced exactly the same. I may try another batch when it runs out, we'll see. If you love this one, I would not wait!
As mentioned in Oprah magazine… Find yourself in a sun-dappled forest of majestic emerald towers with this earthy scent for men and women that combines the redolent richness of the deep woods with the mouth-watering, raspberry-jam juiciness of fir absolute.
Never sharp or astringent, real conifer absolutes and essential oils have a sweet warmth that Fir-ever Young fans have described as delectable, luscious, passionate, expansive, and even spiritual. A whole forest of Douglas fir, silver fir, grand fir, blue spruce, juniper and more are joined by green and fruity florals, juicy citruses and black currants, with frankincense and agarwood for just a hint of smoke.
Fir-ever Young is planted firmly in a base of pineapple sage, fir, lavender, rose, agarwood and frankincense house-infused alcohols.
*All of the frankincense and agarwood that I use was purchased nearly 20 years ago. I have not purchased any more since then as these species have become threatened, and in some cases endangered, because of overharvesting according to Red List Project.
Fir-ever Young is a limited edition – a serendipitous perfume that I couldn't possibly recreate. I worked on it for 10 years, adding bits and pieces of this and that. There is nearly every kind of tree in it, so to speak, and these elements will never again combine in quite the same way.
Laurie's Feeling Notes: I have always felt a sense of peace and serenity being in the forest. It restores me and uplifts me. I blended this perfume with firs, florals, resins and woods and recalled the most carefree time in my life – my late teens when I was travelling and backpacking in the Big Sur forests with my new love, and now husband!

When I discovered fir absolute 20 years ago, I fell in love with its rich, woodsy scent and decided to use it as a base for a perfume for men and women. For a decade, I added to it, creating a perfume that grew more and more complex and wonderful but was never quite done, because as hard as I tried, I just could not think of a name. I decided to invite my customers to help me name the new scent. I sent out hundreds of samples for inspiration and received more fun, beautiful, moving ideas for names than I could use in a century of perfume-making--suggestions like Forest of My Imaginings, Tree of Life, and Purr. But when I read the entry from Kyoto Jackson of Berkeley, I knew my perfume at last had found its name. Fir~ever Young captures all the elements perfectly for me. Youth, adventure, wildness, cavorting in the woods, celebrating the majesty and power of the ancient forest. The name also connects me to the Bob Dylan song "Forever Young," which spoke to me profoundly when I was a young hippie gazing in awe at the forests of Big Sur and still expresses for me the innocence and hope of that time. For all its sensuality and earthiness, this perfume really does call out a sense of openness and wonder and brings to people that sense of passion we know so deeply when we're young.
The new Vintage Corsage Solid Perfumes come in a matchbook style box covered in jewel colored crepe paper with silver or gold Dresden foil edging.
Delicate leaves from my beautiful antique millinery collection adorn the velvet pouches for the Starlight Solids.