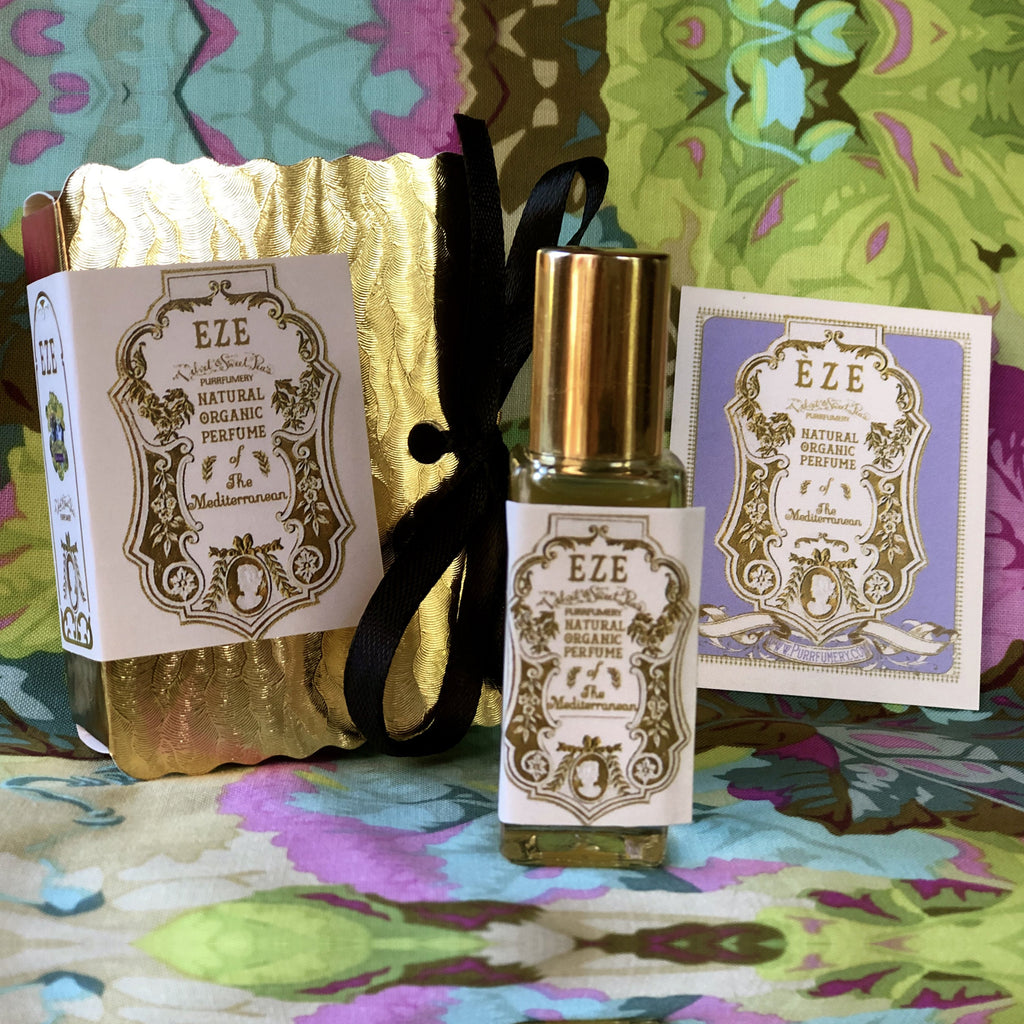 Eze Organic Natural Perfume
$54.00
 Eze
I created Eze to be the quintessential scent of the Mediterranean, as soft and relaxing as a summer breeze. Named after a magical perfume village perched along the French Riviera, Eze opens with a refreshing pop of lemon and unveils a gentle bouquet of lavender, rose geranium, myrtle and jasmine. This perfume finishes in the amber, healing warmth of Labdanum rock rose.
Packaged
in an
elegant gold book
box
with a decorative label and bow,
Eze makes
a beautiful gift
for all occasions: birthdays, graduations, or as a special thank you… just because.
NEW! 5ml roll-on 
Scent notes: labdanum, frankincence, sandalwood, vanilla, Rose Edward, rose geranium, jasmine, lemon myrtle, and lime.
Laurie's Feeling Notes: Eze is a blend of grounding labdanum and restful lavender, with rose geranium and jasmine for that calm, balanced and uplifted feeling I love. Myrtle is refreshing and soothing to the soul.
*All of the sandalwood, frankincense, and vanilla that I use was purchased nearly 20 years ago. I have not purchased any more since then as these species have become threatened, and in some cases endangered, because of overharvesting according to Red List Project.
Reviews
Gentle and easygoing, Èze is 'the other perfume village' along the Mediterranean in the Alpes- Maritimes, not far from Nice.
Fragonard and Gallimard have footholds there, and it's a joy to tour the usines. Èze has less bustle about it than Grasse [I love them each], which is precisely the quality the perfumer wished to conjure. The tonicity of lemon, myrtle and lavender are in the foreground of this fragrance, which feels just right, especially in summer's heat.
It makes me want to sit under an old fig tree and drink pastis with not a care in the world – watching the passersby with a cup of good strong coffee on the side, taking my own sweet leisure. If someone would offer me a hammock slung between two olive trees, that would be the ticket.
Ida Meister, Fragrantica, 2016