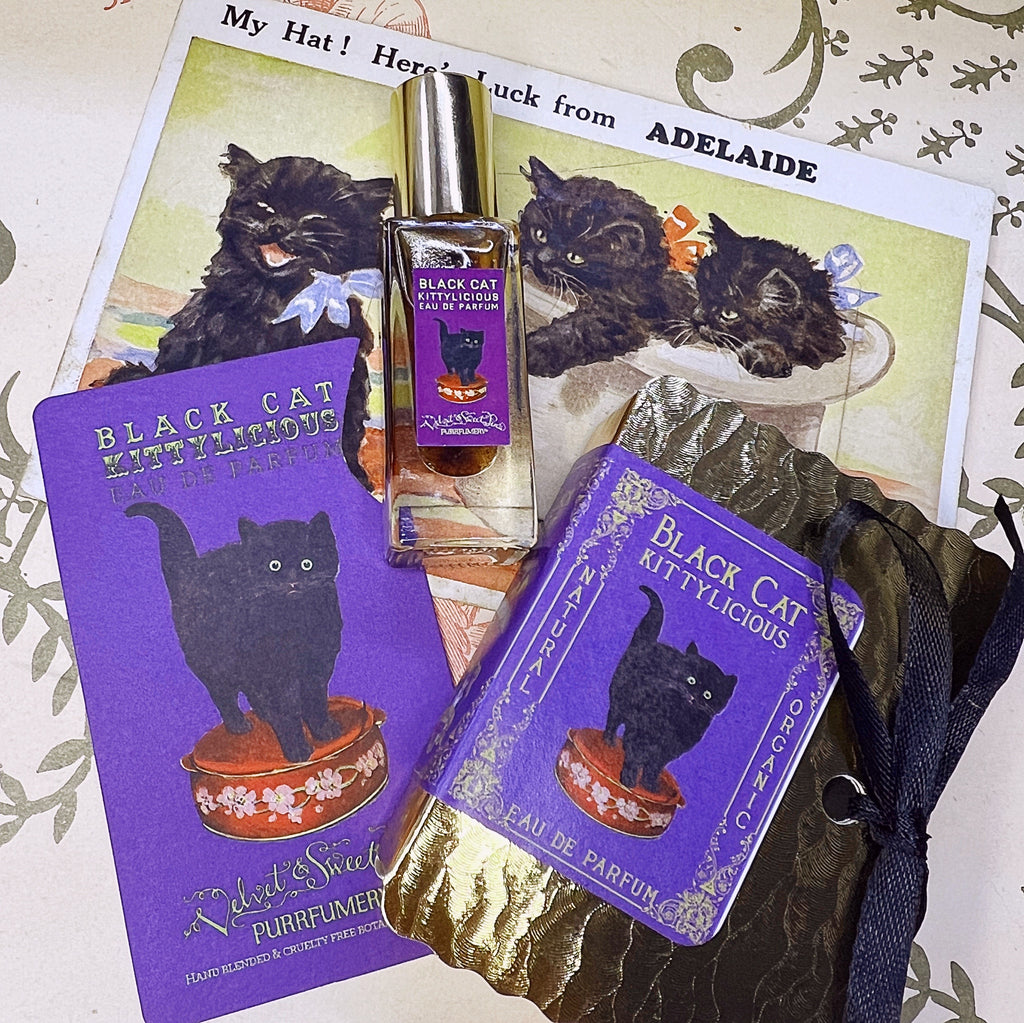 Black Cat Organic Natural Perfume
$54.00
A favorite of Purrfumery friends near and far, beguiling little Black Cat casts her spell with hints of blood orange, cocoa and much more…
Mystery and enchantment are in the air! Black Cat's bewitching blend of mouth-watering cocoa, sensuous ylang ylang, juicy blood orange, and a hint of sweet, surprising aniseed myrtle makes this scent a Purrfumery favorite. Like fun, sexy, sophisticated candy, this scent stays fascinating all the way to an alluring dry-down of Tahitian vanilla infused organic jojoba oil. Give it a little shake as the chocolate can settle!
Black Cat makes an enchanting gift, and comes in a cute little roll-top bottle and is nestled in a cute little roll-top bottle and tucked into a gold book box with a decorative label and bow.
Scent notes: Vanilla, cocao, aniseed myrtle, ylang ylang, blood orange
*All of the vanilla that I use was purchased nearly 20 years ago. I have not purchased any more since then as this species has become threatened, and in some cases endangered, because of overharvesting according to Red List Project.
Laurie's Feeling Notes: Black Cat is a mix of everything that makes me feel mellow and happy, especially the cocoa! Aniseed myrtle reduces anxiety and calms the respiratory system. Ylang Ylang enhances relaxation and reduces anxiety. And blood orange gives my senses a life and has anti-depressant qualities.
NEW! 5 ml roll-on bottle $54.00
Reviews~

I am in love with your new perfume, Black Cat. It has incredible staying power. It is such a unique and beautiful scent. I didn't realize you can pop the lid and it is a roll on, perfect size to take in the purse.
Your wisdom, intelligence, integrity and beauty are instilled in your perfumes. Those that find you and are fortunate to purchase your products are so very lucky.
-Joan Morais, Certified Aromatherapist, Formulator and Teacher
I'm a cat person, so I couldn't resist the vintage-y feline visuals for Black Cat, and the fragrance ended up pleasing me, too. It's a playful take on a gourmand theme, and it begins with a rich orange-cocoa chord, like some fancy organic/artisanal confectionery. It becomes a little earthier in its second phase: I think I smell some patchouli under the cocoa, but I could be mistaken. The ylang ylang becomes more noticeable as the perfume develops, and the base is a soft (and not overly sweet) anise-vanilla that makes a nice "skin scent."
Jessica, Now Smell This Perfume blog

I have my costume, complete with a fabulously sexy witches hat that is covered with sparkly things just the way that I like and the perfume I'll be wearing? None other than Velvet and Sweet Peas Purrfumery's devastatingly luscious and completely bewitching "Black Cat" lovingly crafted by the delicious High Priestess of Natural Purrfumery , Laurie Stern! Laurie's "Black Cat" is a beautifully rich and totally natural botanical perfume, a sumptuous and downright hedonistic blend of cocoa, sweet blood orange, ylang ylang, aniseed myrtle and vanilla that just seems to get love.lier by the hour on my skin. It's a perfume that I never seem to tire of and utterly perfect for this time of year with its candy like yet sophisticated decadence. Watch your necks when you wear this one my darlings….It is after all Samhain and you never know who may be lurking in the dark….
Beth Schreibman Gehring, PerfumeSmellinThings Perfume blog
Halloween has come and gone this year, but Black Cat's gourmand notes are also perfect (or rather, purrfect) for parties and wintertime wear. The fragrance is like a delicious candy or cookie sampler of wonderful holiday treats that needs no added frosting or honey to be delicious...unless you want to add some, of course! And if you do, Black Cat is also available as a moisturizing Whipped Frosting.
Jodi Battershell, Fragrantica, 2015