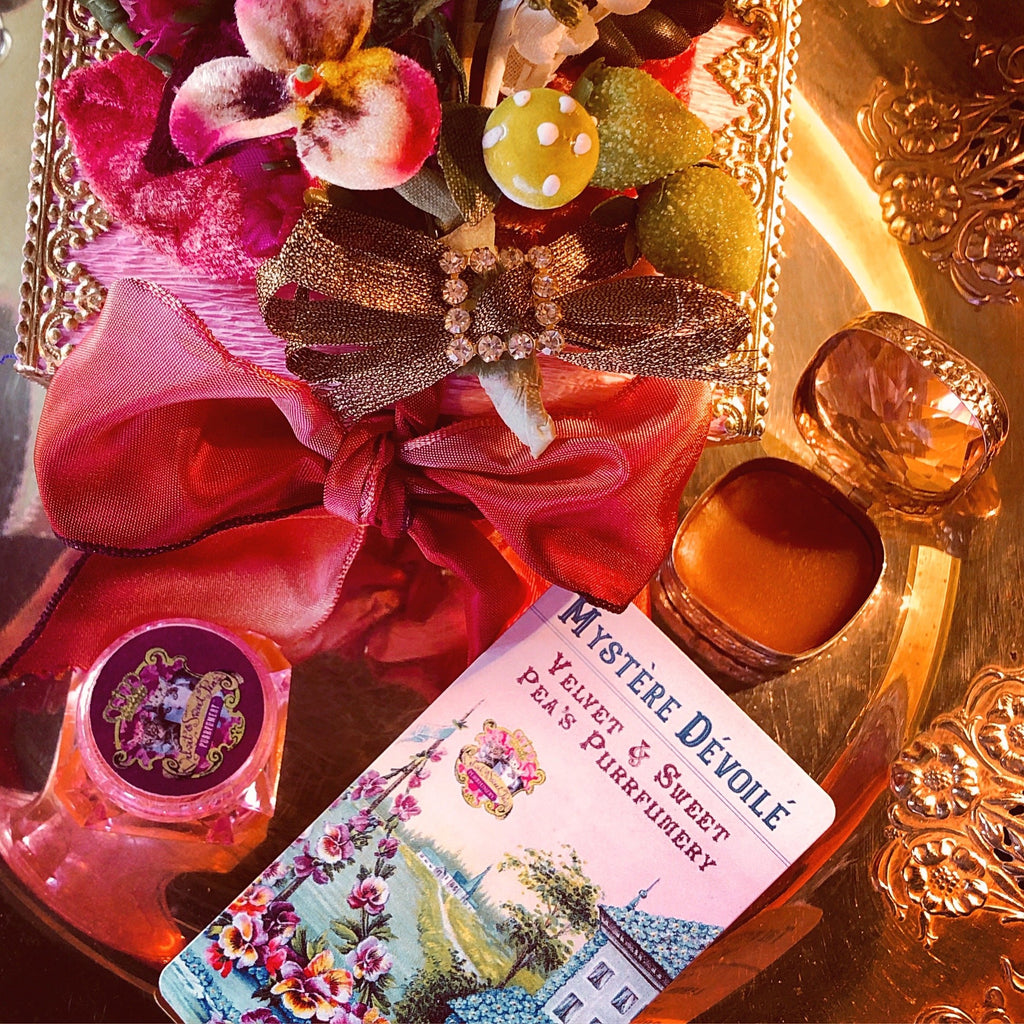 Mystère Dévoilé Natural Organic Solid Perfume
$65.00
Mystère Dévoilé… A mystery unveiled. This perfume conjures the joyful essence of creativity and the art of coming home to one's truest self. Lush and floral, Mystère Dévoilé unfurls generous notes of Indian jasmine, Lisbon lemon, and Italian blood orange before finding its heart in hints of fruity Chinese osmanthus and Orris butter. It honors Gary, Laurie's landscape architect husband, who decades ago came home and planted lemon, lime, and blood orange trees and a 40-foot wall of jasmine along their driveway – a divine little corner of the world that literally explodes with fragrance every year.
All Corsages are one of a kind!
My Corsage Perfumes are available in delightful Starlight boxes with whimsical corsage rings or pins, and opulent sterling silver jewel boxes with pin-on or wrist hand-tied corsages. These are perfect gifts for collectors looking for one-of-a-kind gifts that will never be available again. Adorn yourself in more ways than one! Please note when purchasing if you want a ring or pin-on corsage or if you have a color preference. Pink- lavender, Red- Magenta, Blue-green available.
The Vintage Corsage Solid Perfumes come in a matchbook style box covered in jewel colored crepe paper with silver or gold Dresden foil edging. 
These solid perfumes also are available in a Starlight Box tucked into a velvet pouch without the corsage.
Scent notes: Lemon, Italian blood orange, lemon myrtle, Chinese osmanthus, Indian jasmine, Orris butter, Indian sandalwood
*All of the sandalwood that I use was purchased nearly 20 years ago. I have not purchased any more since then as these species have become threatened, and in some cases endangered, because of overharvesting according to Red List Project.
Laurie's Feeling Notes: Narcotic and peaceful jasmine, and soothing, comforting Osmanthus and iris… it's the scent of my driveway and it literally brings me home, physically and spiritually, after a difficult or challenging time.
Review~
Velvet & Sweet Pea's Purrfumery Mystere Devoile – Imagine overlooking San Francisco Bay in the spring and summer: your husband plants a 40 foot wall of jasmine just for you alongside the driveway. Everyone who approaches your house inhales it before they arrive! Lemon trees in full bloom. Your family wants these aromas captured; who wouldn't? To this end, Laurie gathered the most succulent citrus aromas: Lisbon lemons with their tinge of bitters, juicy Italian blood orange and fizzy lemon myrtle to amplify and extend lemon's potency, adding its herbal undertone.
Upon their scented heels unfolds a lavish floral array, sophisticated and satisfying – Chinese osmanthus' apricotty leatheriness dovetails heady Indian jasmine seamlessly. Orris butter provides counterpoint as its powdery delicate floral woodiness acts both as fixative and fragrance, softly violet-hued and rhizomal. Mystere Devoile is underscored with creamy aged Indian sandalwood; it's an achingly lovely, masterful touch which unifies the entire composition without distraction. In her unexpected marriage of materials Laurie gives us a symphonic tone poem of a perfume, all the more beautiful for its singularity. 
Ida Meister, CaFleureBon, 2019