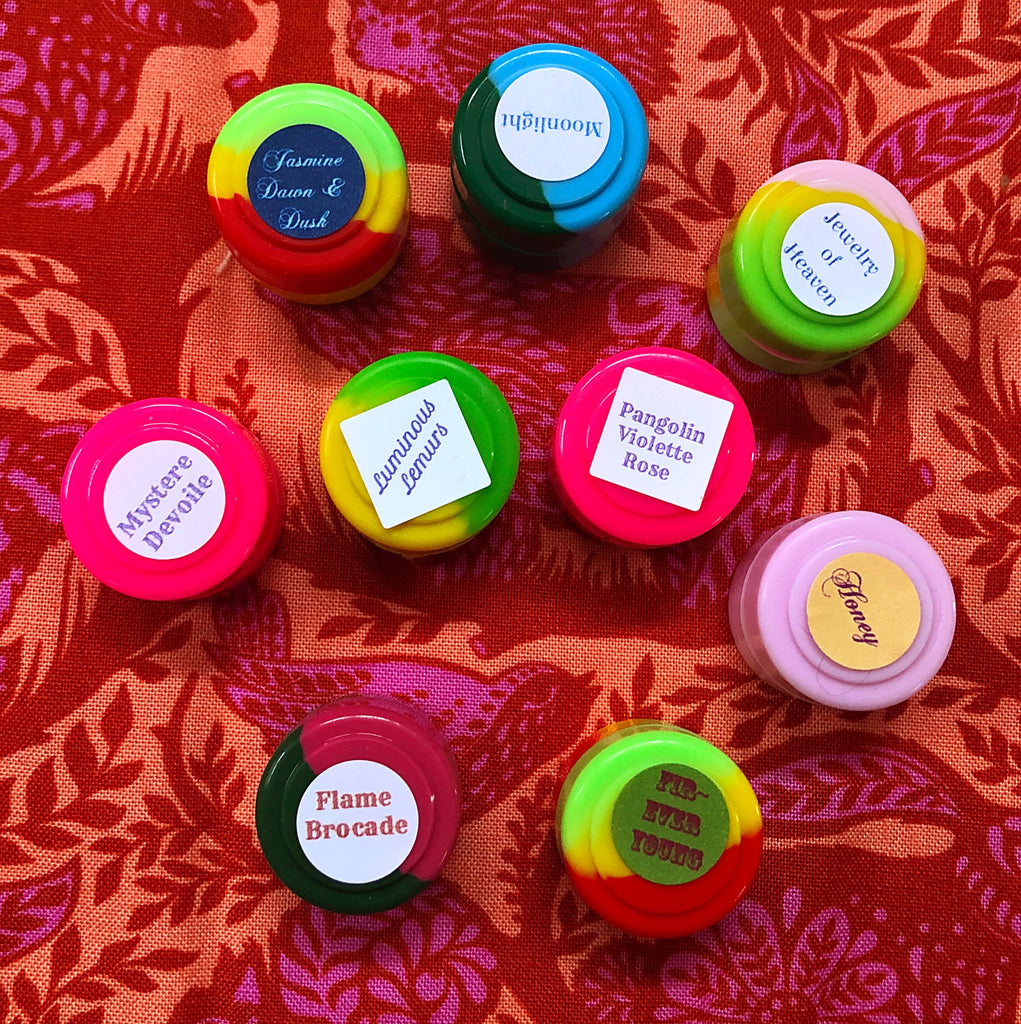 Solid Perfume Samples including our NEW Beaumes de Cassis, Pangolin Violette Rose, Luminous Lemurs, Flame Brocade, Jasmine Dawn & Dusk, Moonlight, Mystere Devoile, Fir-ever Young, and Jewelry of Heaven.
$68.00
Our Solid Perfume Sample Set!
I use my beautiful antique millinery collection to package my new Limited Edition perfumes – delicate violets and leaves adorn all the pouches. And all of these perfumes are available in my new Starlight box, as well as the sterling silver jewel box. Here we go!
New! Beaumes de Cassis: The ultimate fruity bon bon, Beaumes de Cassis is the essence of celebration – the clinking of glasses filled with sweet dessert wine and jasmine petals. Beaumes de Cassis opens with a euphoric burst of juicy blood orange, ripe berries and black currant bud. Osmanthus and Tasmanian boronia complete the fruity mélange that finds its heart in a woodsy mix of benzoin resins and fir balsam. 
Pangolin Violette Rose: The Egyptian violet leaf and Persian rose otto in Pangolin Violette Rose are as precious as the insect-eating mammal this scent is named after. Pangolin Violette Rose opens with candied violets and evolves into a luxurious bouquet of roses dusted with powdery Orris absolute, and rests in a base of 20-year aged, Tahitian vanilla bean-tinctured organic alcohol. Dreamy and rich, this is a scent that stays close to you, inspired by a gentle animal that needs our help. This solid perfume is more Violette than Rose.
Pangolins are native to Asia and Africa, and they roll into a tight ball when they feel threatened. The threat is real. Pangolins are among the most illegally trafficked mammals in the world, poached for their scales and meat. Now, they are in danger of extinction. A portion of sales from this perfume will go to the Pangolin Crisis Fund, an organization fighting to reduce demand for pangolins around the world. 
Flame Brocade: I worked on this for years! It is a true labor of love… and a truly limited edition – very small batch. Flame Brocade opens with the spicy warmth of antique cinnamon and black pepper and evolves into a narcotic blend of sultry frangipani and tuberose. A vanilla sandalwood base mingles with heady floral and spice notes and completes this luscious and unforgettable scent. I am offering Flame Brocade in liquid and solid – all are parfum strength.    
Mystère Dévoilé: This perfume honors Gary, my landscape architect husband. Years ago he planted a 40-foot wall of jasmine along our driveway. In the spring and summer, our driveway is an incredible place to be – the scent from our lemon tree mingles with the gorgeous aura of jasmine. My cousins told me I should make a perfume that captures the magical, completely over-the-top scent of my driveway when everything is in bloom. Mystère Dévoilé is that perfume. "A mystery unveiled." This perfume was my coming home after a difficult period. It's lush and floral, and unfurls generous notes of Indian jasmine, Italian blood orange and Lisbon lemon before finding its heart in hints of fruity Chinese osmanthus and orris butter. I love this perfume and I hope you will too!
Moonlight: This scent was inspired by the Orientals of the 1920s. It is rich, magical and luminous, and reminds me of that incredible era of artistry and luxury. Moonlight is intensely floral, with a citrus opening and a heart set in an accord of Indian jasmine, Madagascar ylang ylang and Egyptian carnation. A base of aged patchouli and deep, gorgeous sandalwood mingles with spicy carnation notes to carry this perfume to its lavish finish. It's warm and rich and very beautiful!
Fir-ever Young solid perfume, first ever!
I have made a Limited Edition of Fir-ever Young in a solid perfume for the first time ever! This is one of my best sellers and gorgeous for this season. It's based on fir balsam, black currant buds, and jasmine. Divine. It was in Oprah Magazine a few years ago!
Luminous Lemurs
Luminous Lemurs is a beautiful, juicy, and complex scent I mixed using the ylang ylang a dear friend brought me from Madagascar and my 20-year-old Madagascar vanilla. I also used other spices that are found in that part of the world, like antique clove, nutmeg, and my rare and amazing 20-year-old sandalwood. 
A generous portion of the proceeds from the sale of Luminous Lemurs will go to Centre ValBio to help Dr. Wright continue her work at Centre ValBio helping lemurs and villagers. Things are dire in Madagascar with the pandemic raging. Purrfumery funds will help build tree corridors for lemurs and other wildlife to roam, and help girls from remote villages attend high school. These funds will also help local villagers who work at the center so they can continue their efforts.
Jasmine Dawn & Dusk: Three varieties of jasmine cast their spell in this sumptuous perfume. Night blooming, dawn blooming and gardenia-like jasmines unfold over time, revealing sweet bursts of blood orange, mandarin and ruby grapefruit. This hypnotic blend is set in a delicious base of organic jojoba oil and features rare Tamil Nadu sandalwood from India. Purchased by the perfumer nearly 20 years ago, Tamil Nadu is known for its exquisite warmth and a terroir that will never be available again.  
10 small pots of solid perfume in vanilla infused jojoba oil with the Purrfumery's own beeswax.