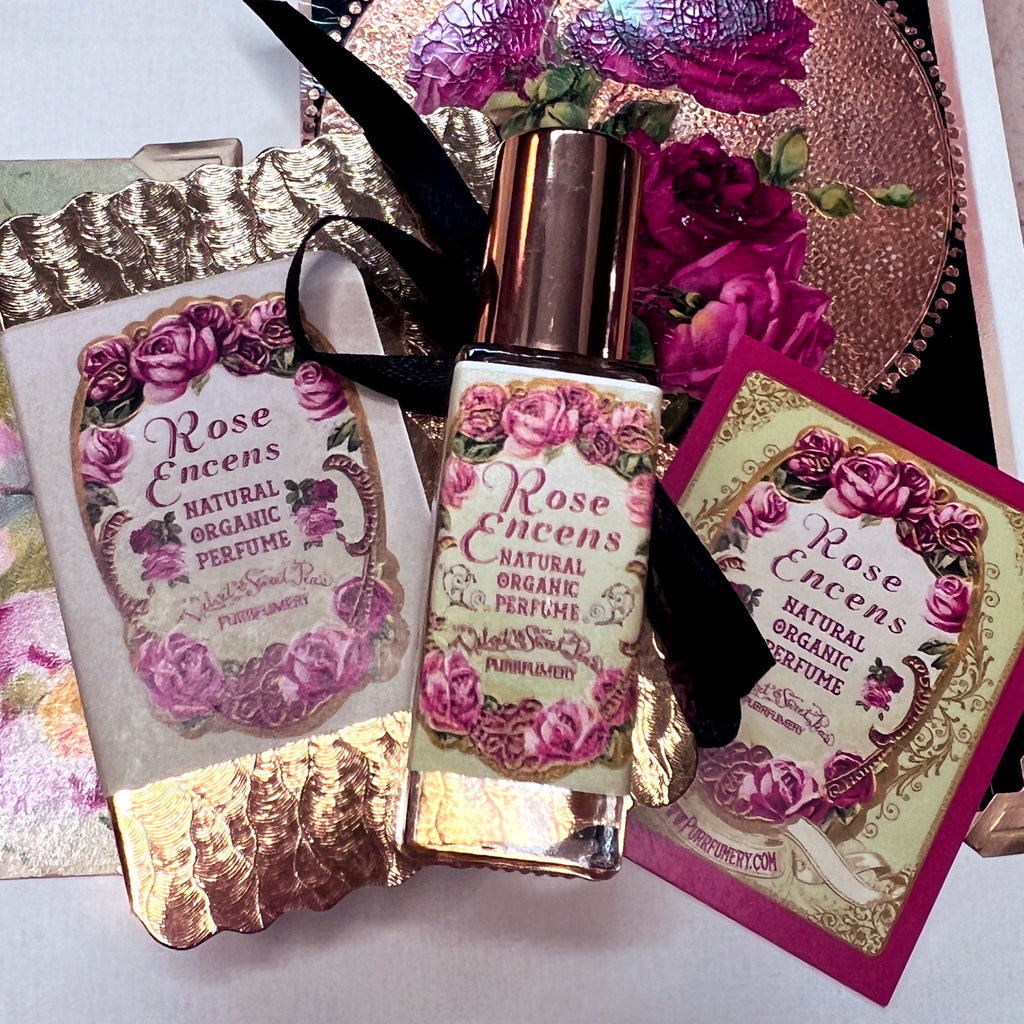 Rose Encens Organic Natural Perfume
$68.00
Rose Encens
Rose, citrus and resin essences dance in perfect harmony. Sensuous and warm, Rose Ensens opens with a deep, rich scent of rose that mingles with sweet, tart Italian blood orange and Mexican lime top notes. The mystery of sacred Frankincense resin emerges as time passes.
Packaged in an elegant gold book box with a decorative label and bow, Rose Encens makes a beautiful gift for all occasions: romance, birthdays, graduations, or as a special thank you… just because. 
NEW! 5 ml roll-on
Scent notes: labdanum, frankincense, sandalwood, rose geranium, Rose Edward, black currant bud, lime
Laurie's Feeling Notes: Rose calms me and when I inhale deeply, I know "it's gonna be alright." Rose geranium also calms the spirit, and has an uplifting presence that I love. Did you know that Frankincense is a resin that comes from a wound in a Boswellia tree? I have experienced it to be helpful with grief and loss.
*All of the sandalwood, frankincense, and vanilla that I use was purchased nearly 20 years ago. I have not purchased any more since then as these species have become threatened, and in some cases endangered, because of overharvesting according to Red List Project.
Reviews
You get the feeling of being surrounded by roses in a garden, the lovely scent wafting in the air all around you, and yet there's also the slightest hint of green, which gives the effect of a freshly cut bouquet. Rose Encens is a must-have for any rose lover; I can't think of any other rose fragrance that smells this realistic.
But what has made this perfume magical for me is the Frankincense. It's so seamlessly blended into the rest of the notes that I didn't even realize what it was initially; at first I thought Laurie had found some especially gorgeous, warm roses for this new creation. But once the Frankincense took the spotlight, there was no mistaking it for anything else. It is incredibly beautiful, with a depth I haven't experienced before in any other incense fragrance. But here's where the magic came in: it's like serenity in a bottle for me.

Tammy Schuster, CaFleureBon, 2016
Rose Encens, from Velvet & Sweet Pea's Perfumery, opens with Italian blood orange and Mexican lime, full-bodied citrus notes that match the rich and fleshy floral bouquet of the rose. Because this perfume is in a jojoba oil base, the aroma is smooth and the opening lacks any sharpness that you might expect from citrus. This allows the blood orange and lime to be juicy, enhancing the voluptuousness of the rose. Upon application of this luscious oil, you feel as if you are walking amidst roses in full bloom.
Once the topnotes dissipate, the encens facet of Rose Encens begins to emerge. You will notice that you have now moved from the garden, and into a more resinous venue. Frankincense is at the helm now, morphing the roses into a deeper powdery form. Interestingly, the rose in the drydown still maintains its vibrant and fresh character, but it is more mysterious, having taken on the basalmic quality of the frankincense. After several hours of wear, there is a yet another phase of the drydown which is an absolutely radiant honeyed rose that is warm and perfectly sweet. Laurie Stern, the nose behind V&SP, harvests honey and beeswax from the bees in her garden and it's not difficult to imagine being in her rose garden among the bees and their fresh beeswax. Divine!
Trish Vawter, Scent Hive, 2016
I love a good rose perfume, and this is one. It's far more tender and balanced than many sharing a similar theme.All the sweetness comes from Laurie's roses – not vanilla. You don't need to add spice; it exists in the complexity of such a jammy rose, which is wed to zesty lime and blood orange, juicy and palpable.
Frankincense is judiciously applied, not in overdose, as it's often found [although I enjoy that as well]. I think it's more unusual in that regard. Rather than create a rose with sharp margins, Laurie gives us a rounder rose, well-equilibrated and ever-so-soft in the drydown, a poised juggling of the citrus/rose/incense triad.
Ida Meister, Fragrantica 2016