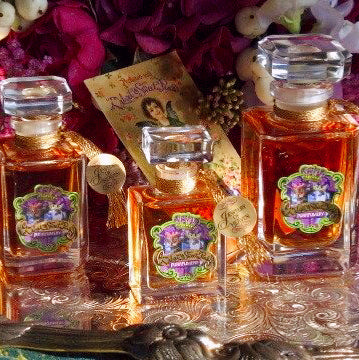 Jewelry of Heaven Organic Natural Perfume
$48.00
An homage to the classic 19th-century jasmine-rose fond opens the heart of the Purrfumery's most timeless, most beautiful extrait de parfum. Organic jasmine grandiflorum and Turkish and Himalayan roses intertwine in a deep, meditative scent—as languorously sensual as it is serene.
Jewelry of Heaven features rare Tamil Nadu sandalwood from India. Purchased by the perfumer nearly 20 years ago, Tamil Nadu is known for its exquisite warmth and a terroir that will never be available again.    
This unabashedly beautiful blend is created in a base of Queen Nefertiti and Red Rose infused organic alcohols. Liquid extrait de parfum is packaged in a Verrieres Brosse crystal bottle and tucked into a dupioni silk pouch. The solid perfume is packaged in a custom-designed, limited edition sterling silver jewel box and placed in a silk and velvet pouch with a rhinestone buckle. The finishing touch is a Victorian scent card that captures the spirit of a time when even the advertisements were little works of art.

Extrait de parfums and solid perfumes are made in small, hand-crafted batches and include a vintage number.

Notes: organic Jasmine grandiflorum, Turkish and Himalayan roses, sandalwood, vetiver, vintage patchouli.

*All of the sandalwood that I use was purchased nearly 20 years ago. I have not purchased any more since then as these species have become threatened, and in some cases endangered, because of overharvesting according to Red List Project.
Laurie's Feeling Notes: With rose, vetiver and patchouli, I think this is my most peaceful scent. Like Rose Jasmine in my Kittylicious line, Jewelry of Heaven takes me to a most profoundly serene place and restores a sense of well-being and comfort.
Review~

Jewelry of Heaven draws me in and makes me want to keep inhaling its heavenly aroma. Wonderful! Songbird is wonderful. I would choose this perfume. I detect cinnamon, vanilla, and orange... almost edible... Yummmmmm..
Laurie Stern is a true perfumer, crafter, and skilled artisan. Her accords are tightly mastered and thrilling to my olfactory organs. Her perfumes are well constructed, last a long time and evolve nicely on my skin. Over the last couple of years, I have smelled dozens of perfume samples from other natural perfumers but none has topped these.
-Lyn Ayre, Perfumer and Teacher