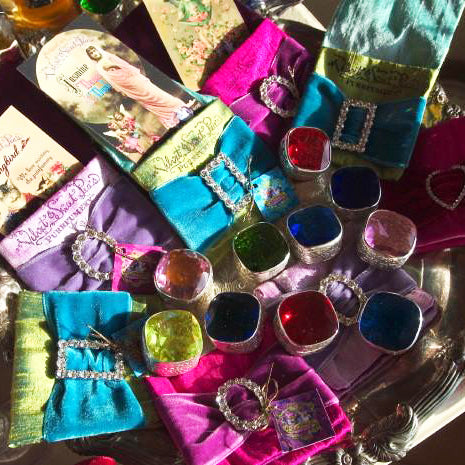 Songbird Solid Natural Botanical Perfume
$375.00
A luscious, mouth-watering blend of citrus, spices, and sweet, narcotic flowers sensually unfurls towards a soft, powdery finish. Antique cinnamon, blood orange, tuberose, and rare Boronia are only a few of the notes in this sexy, complex melody.
Songbird features rare Tamil Nadu sandalwood from India. Purchased by the perfumer nearly 20 years ago, Tamil Nadu is known for its exquisite warmth and a terroir that will never be available again. The solid perfume is packaged in a custom-designed, limited edition sterling silver jewel box and placed in a silk and velvet pouch with a rhinestone buckle. These boxes are custom-designed with very limited availability. They can be re-filled or re-used once the luscious contents are finished.
All solid perfumes are made with organic jojoba oil and beeswax from the Purrfumery's own beehives.

The finishing touch is a Victorian scent card that captures the spirit of a time when even the advertisements were little works of art.

Extrait de parfums and solid perfumes are made in small, hand-crafted batches and include a vintage number.

Notes: Blood orange, Mexican lime, tuberose, Boronia, Italian neroli, 100-year old antique cinnamon, sandalwood, frankincense.
*All of the sandalwood, frankincense, and vanilla that I use was purchased nearly 20 years ago. I have not purchased any more since then as these species have become threatened, and in some cases endangered, because of overharvesting according to Red List Project.
Laurie's Feeling Notes: A few of my favorite feelings… Boronia and blood orange makes me feel uplifted; tuberose makes me feel soothingly sensual; and sandalwood makes me feel very relaxed. And cinnamon is known for reducing anxiety. This is the scent that helps me feel confident and happy when I'm anxious.
10ml solid perfume.