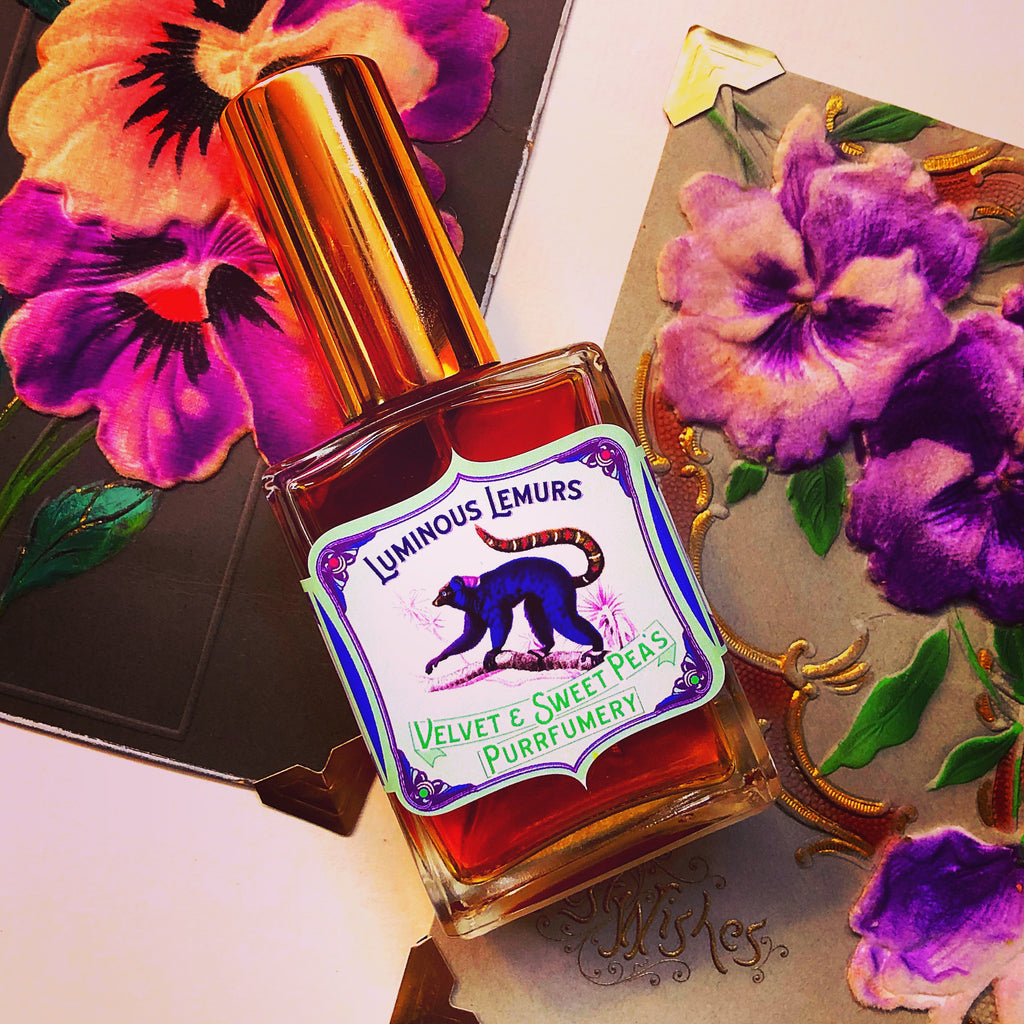 Luminous Lemurs Perfume!
$45.00
Luminous Lemurs!
Did you know that male ring-tail lemurs attract their mates by exuding a fruity floral smell from scent glands from their wrists? 
Inspired by the lush forests of Madagascar and the delightfully sociable lemurs who inhabit them, Luminous Lemurs opens with a rush of blood orange and Madagascar ylang ylang – a double delight of rich, floral fruitiness. The scent evolves over time, revealing spicy, narcotic carnation at its heart and hints of antique nutmeg and clove, drying down to a sublime, soft bed of sandalwood and vanilla.
A generous portion of the proceeds from Luminous Lemurs benefit Centre ValBio, led by Dr. Patricia Wright, who has dedicated her life to working with indigenous communities to reverse the damage done by deforestation in Madagascar, and help save the many species of animals and plants that live and grow there. Purrfumery proceeds will help build tree corridors for lemurs and other wildlife to roam, and help girls from remote villages attend high school. These funds will also help local villagers who work at the center so they can continue their efforts. 
Solid parfum is made in a base of organic jojoba oil, with the Purrfumery's own beeswax. Liquid parfum is made in a base of 10 year old tinctured vanilla bean organic grain and grape alcohol. 
Solid 3 ml and 5 ml Starlight boxes are packaged in purple velvet pouches with lush, luminous leaves.
The sterling silver, opal-esque jewel boxes are stunning are tucked into petite Luminous Lemur boxes.
Eau de parfum is available in 4ml, 15 ml or 30 ml atomizer spray bottles. Eau de parfum bottles are packed in purple velvet pouches with lush, luminous leaves. 
Laurie is also offering a limited edition, 30 ml Brosse crystal flacon. The perfect gift for collectors, it arrives in a one-of-kind, handmade, large Luminous Lemurs box.
Notes: Blood orange, Madagascar ylang ylang essential oil and concrete, Egyptian carnation, antique clove bud, nutmeg & cinnamon, 20 year old sandalwood, 20 year old Madagascar vanilla.
Laurie's Feeling notes: This perfume holds a special place in my heart because my friend brought me the ylang ylang from Madagascar as a gift. The blend of ylang ylang, vanilla and sandalwood are soothing and calming to my spirit and make me feel happy and relaxed.
*All of the sandalwood and vanilla that I use was purchased nearly 20 years ago. I have not purchased any more since then as these species have become threatened, and in some cases endangered, because of overharvesting according to Red List Project.
Reviews~
Best New Perfume of 2020! Matt Morris, international artist and editor at Fragrantica!
Given the uncertainty and struggle for survival that this year has set loose not only on the perfume industry but every corner of our social fabric, I'm relieved to say that I've found love in a (relatively) hopeless place. My choice for best release of the year is Luminous Lemurs from Velvet & Sweet Pea's Purrfumery: a gorgeously beguiling ylang ylang potion, sparking joy with the flower's capacity for narcotic sensuality—fleshy, fruity, and candied at different turns. This yummy tropical brightness is further excited through a rich and juicy blood orange opening, forgoing tartness for a lavish marmalade effect. Smooth application of spices—heady clove, radiant cinnamon, and snappy nutmeg—guides the central floralcy toward a sumptuous vanilla and sandalwood base—notably constructed from materials Stern acquired over twenty years ago, lending both a substantive concern for sustainability among threatened species and a boozy cordiality to the lingering aspects of the perfume. The profile of the sandalwood in Luminous Lemurs is actually breathtaking. I gasp over its creaminess and the measured smokiness that spreads underneath fruit and flower notes. 
Editor Matt Morris, Fragrantica, December 2020
Luminous Lemurs introduces itself with a burst of juicy blood orange, a note which seems to persist throughout the perfume's development despite its low molecular weight. It's a luscious counterpoint to buttery indolic ylang-ylang (also a native of Madagascar) from concrete and essential oil sources: unctuous, sloe-eyed and dreamworthy. From here on in, things heat up considerably with the inclusion of antique spice absolutes from Laurie's collection – clove bud, nutmeg and cinnamon. The coolness of blood orange segued by indolent lusty blossoms and sultry spices to fan the flames of desire. We are nowhere near done at this point: the headiness of eugenol-rich Egyptian carnation is an intuitive addition and amplifies spice notes beautifully, imparting floralcy as well as warmth. All this richness beds down in a duvet of aged sandalwood and the now-rare Madagascan vanilla. This vanilla is dark, woody – smelling of burnt sugar, redolent of both licorice and dark chocolate – and currently exceedingly costly, so one can imagine these characteristics magnified over time in an aged absolute. Sandalwood pairs instinctively with its creamy persistent softness painted in hushed tones which echo woody vanilla, a perfect base for Luminous Lemurs' robust spiced florals.
Award winning journalist Ida Meister at CaFleureBon, 2020
The scent of Luminous Lemurs is nothing short of gorgeous. It is voluptuous and alluring with its mingling of clove and ylang ylang, but also familiar and cozy. It's like something I've smelled before, yet it's also entirely new and unique. Carnation heightens the spicy quality of clove and then vanilla makes it smooth and softly sweet.
@greenbeautytrish
Luminous Lemurs embodies everything we love about Velvet & Sweet Pea's Purrfumery, from the packaging and ingredients to the intention. The perfume is sumptuous, opening with fruity blood orange and smooth 20-year-old Madagascan vanilla. It soon sizzles with lush Egyptian carnation, cinnamon and nutmeg. Rare 20-year-old sandalwood provides a soft anchor for the fragrance. It's a magical perfume of East African influence. 
@aveparfum