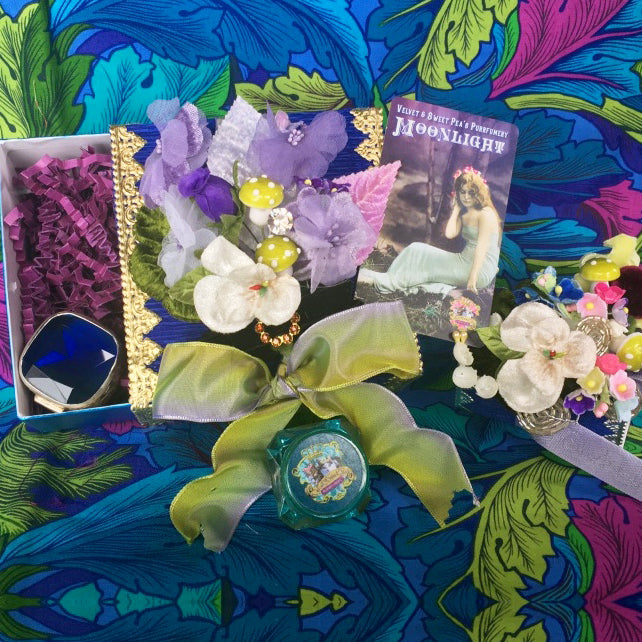 Moonlight Solid Perfume
$65.00
Rich, magical and luminous, Moonlight is a spicy warm homage to the opulent perfumes of the 1920s. Inspired by this era of luxury and artistry, Moonlight indulges the senses with an intensely rich floral, citrus opening and a heart set in an accord of Indian jasmine, Madagascar ylang ylang and Egyptian carnation. A base of aged patchouli and deep, gorgeous sandalwood mingles with those spicy carnation heart notes to carry this perfume to its lavish finish.
All corsages are one of a kind!
My Corsage Perfumes are available in delightful Starlight boxes with whimsical corsage rings or pins, and opulent sterling silver jewel boxes with pin-on or wrist hand-tied corsages. These are perfect gifts for collectors looking for one-of-a-kind gifts that will never be available again. Adorn yourself in more ways than one! Please note when purchasing if you want a ring or pin-on corsage or if you have a color preference. Pink- lavender, Red- Magenta, Blue-green available.

The Vintage Corsage Solid Perfumes come in a matchbook style box covered in jewel colored crepe paper with silver or gold Dresden foil edging. 
These solid perfumes also are available in a Starlight Box tucked into a velvet pouch without the corsage.
Scent notes: Pink grapefruit, Italian bitter orange, Egyptian carnation, Madagascar ylang ylang, Indian jasmine, aged patchouli and Indian sandalwood.

*All of the sandalwood, frankincense, and vanilla that I use was purchased nearly 20 years ago. I have not purchased any more since then as these species have become threatened, and in some cases endangered, because of overharvesting according to Red List Project.
Laurie's Feeling Notes: I wanted to make a very rich floral perfume, and with its spicy, rich carnation, narcotic jasmine, and ylang ylang, I feel very luxurious in this one!
Review~
Velvet & Sweet Pea's Purrfumery Moonlight – Our perfumer is an undeniable romantic and Moonlight becomes her. Romance doesn't necessarily preclude volupté – and this fragrance possesses a wantonness born of the fierceness of flowers. It bristles with self-assured sensuality and takes no prisoners. We can blame the moonlight, but it's more likely that its potent floral trio is the culprit. A spritz of pink grapefruit for sparkle, the zing of Italian bigarade pop like the cork on a jeraboam of Veuve Cliquot – but don't get all comfy just yet. The seraglio hasn't opened its portals and when it does, you'll know: a wealth of spiciest Egyptian carnation, ylang ylang from Madagascar and that bosomy Indian jasmine will swan in. You're done for. Laurie won't leave it there, either; she employs the oldest patchouli and richest sandalwood in her palette to reel you in and you'll be glad she did. Although Deco vintages inspired her, Moonlight shares their luxurious feel in a manner which appeals to contemporary tastes. Since when was seduction dated?

Ida Meister, CaFleureBon, 2019