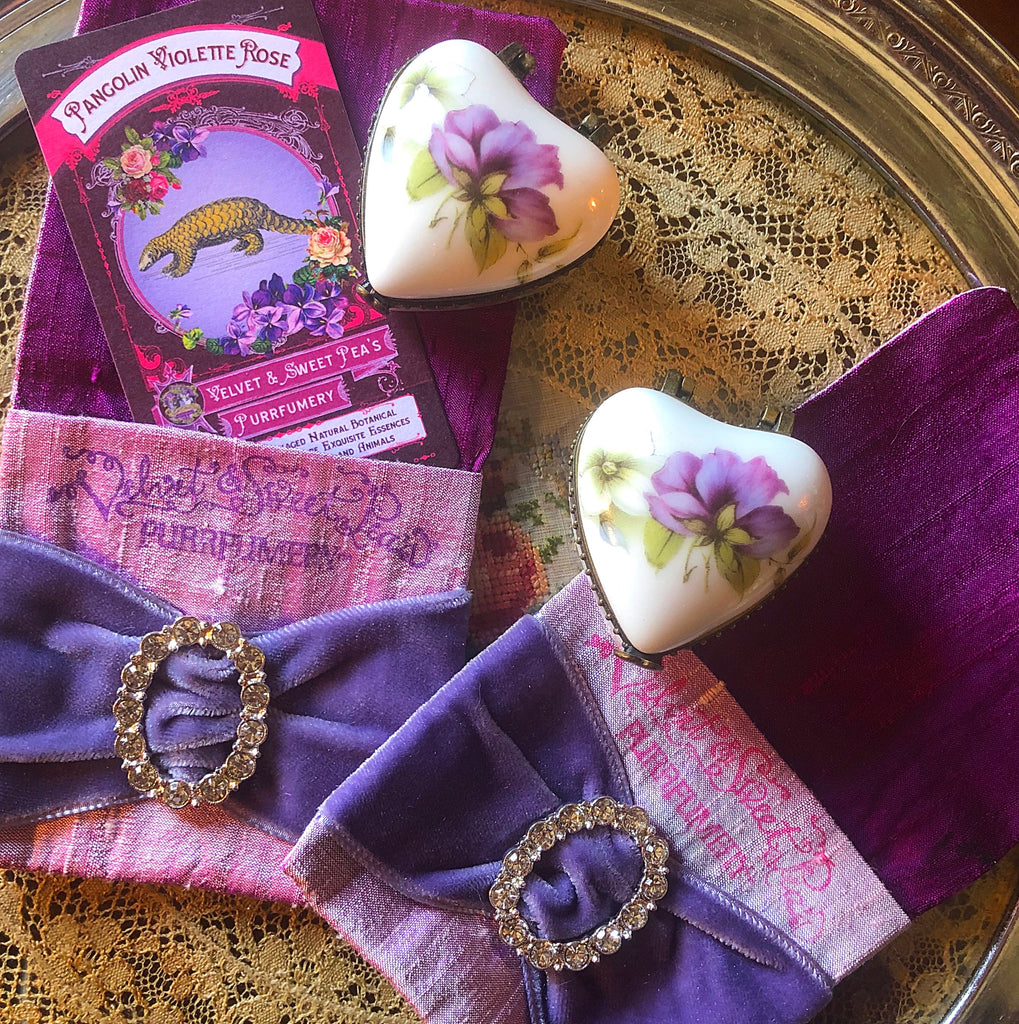 Pangolin Violette Rose
$95.00
Pangolin Violette Rose is my second limited edition perfume dedicated to helping endangered species come back and thrive in the world we all share. Pangolin Violette Rose opens with jasmine auriculatum and jasmine sambac and has top notes of candied violet. A little carnation absolute gives the top note some richness, and then the scent blooms into a complex bed of roses. Indian Rose Edward is jammy and lush and Persian Rose Otto has a candy-like appeal. As the scent blooms on the skin, the roses turn sultry and rich with Bulgarian rose absolute and Otto and Turkish rose absolute. Egyptian violet leaf absolute commingles with the roses, bringing them even deeper, and a touch of cocoa absolute adds a little bonbon. The perfume rests on a throne of aged Tamil Nadu and New Caledonia sandalwood. As time passes, the orris absolute and orris concrete linger with a dusting of powdery gorgeousness. I set all these magical, rare natural materials in a base of 20-year aged Tahitian vanilla-infused biodynamic grape alcohol.
I love this perfume and for me, it's a testament to the magic of naturals. The solid is more violet leaf – more deep and green – and the liquid is more rose-powdery. This is the alchemy of working with oil and alcohol, and that's what the violets, irises and roses decided to do! You may decide you like both for different occasions, and indulge in the solid and the liquid.
Pangolin Violette Rose is a pinnacle of creativity for me – it is a collector's item, a gift from the inside out, with packaging that includes my letter-pressed artist statement on the ribbon, and bottles bedecked with vintage flowers. I hand-blended the liquid parfum in a small batch using the most exquisite and rare materials available, and once it's gone, it's gone forever. The solid is a little more plentiful, but not by much… 
I am donating 1/2 of the cost of Pangolin Violette Rose perfume to the Pangolin Crisis Fund. This initiative, led by Paul Thomson, a conservation biologist, raises money and pays for projects that are working to stop the poaching of endangered pangolins, reduce demand for their meat and scales, and raise awareness. The fund is managed by the Wildlife Conservation Fund, a group that I've supported for years! One thing I like is they send 100% of all donations directly to the field without taking any overhead.
I love that the Pangolin Crisis Fund supports the Tikki Hywood Foundation, a Zimbabwe-based conservation group with a wildlife rescue center that runs 24 hours a day! Tikki Hywood's mission is to rescue pangolins from poachers and from illegal bushmeat markets. Once they've rescued the pangolins, they rehabilitate them and bring them back to the wild where they belong. 
Two paths cross and become one

Pangolin Violette Rose bloomed from serendipity. After I created Luminous Lemurs, benefitting Centre ValBio's work with Madagascar lemurs, I turned my attention to pangolins. Pangolins are native to Asia and Africa, and they are among the most illegally trafficked mammals in the world, poached for their scales and meat. Now, they are in danger of extinction, and they need our help. 
I was daydreaming about rose and violet leaf, mixing a perfume with pangolins in mind. Then I heard from artist, writer, curator, and educator Matt Morris and gallery owner Eric Ruschman about The Red Wedding, an art exhibition that opened at Ruschman Gallery in Chicago in May 2021. Matt designed and curated The Red Wedding as an experiential journey through the essence of femininity and he wanted a perfume to be one of the artworks in the show. He said he had been daydreaming about a scent of roses and violets… My heart jumped. This is the scent I was working on! I completed the scent and Emerald, Velvet & Sweet Pea's amazing designer, created a fan that gallery guests received, each with a spritz of Pangolin Violette Rose. Read more about my process of making this and all of my perfumes in this interview by Matt in Fragrantica!
"Perfumed fans in hand"
Matt told me that many people visited The Red Wedding multiple times. Visitors said they felt the atmosphere of the show in a profound way, and they just wanted to spend more time in it. Ruschman Gallery is not a very big space, but Eric noticed some visitors would stay for over an hour, just softly circling around the room, perfumed fans in hand as they retreated from the world outside. Visitors described the show as feminine, feminist, utopian, comforting, soft, dreamy, lovely, and lots of people would mention that it was like a satisfying dessert course. 
The show also sparked conversations around diversity. The Red Wedding included artists working across many different media, and from different age groups, races, genders, sexual orientations and nationalities. Yet despite these differences, the artists collaborated to create an exhibition that was cohesive in vision and touched people deeply.  
With this perfume, I am helping animals in need, and I am celebrating the essence of The Red Wedding and the unique expression that each and every one of us make in this world. I invite you to be part of this celebration, my dear Purrfumery friends!
Limited Edition Details
30 ml Verrieres Brosse stopper flacon in corsage hatbox
$750.00 each. Opulent and deluxe! Limited edition and numbered.
8 ml Verrieres Brosse stopper flacon in corsage hatbox
$350.00. A tiny treasure! Limited edition and numbered.
10 ml solid perfume in Violette sterling silver Jewel Box in lavender silk/ rhinestone pouch
$500.00. Rare and exquisite! Limited edition and numbered.
10 ml solid perfume in Violette porcelain box in lavender silk/ rhinestone pouch
$350.00. A lovely heirloom! Limited edition and numbered.
5 ml Starlight solid perfume in velvet pouch with vintage flowers
$95.00. Delightful!

Review~ Ida Meister, CaFleureBon, 2021
Velvet & Sweet Pea's Purrfumery Pangolin Violette Rose is quite simply Sumptuous. It is a brilliant example of what is possible when impossibly beautiful materials are utilized in perfumery: Nature's glory. It's common knowledge that I adore natural perfumery, but I've smelt many well-intended fragrances in this genre which have (quite frankly) left me cold – or tepid, which is probably worse. When natural perfumers don't succeed, their compositions are ho-hum at best; when they're gorgeous, there is nothing to top them. Laurie Stern's latest falls squarely into the latter camp. In fact, I find it to be among the best perfumes this year: its depth and seductiveness, all rondeur and olfactory generosity – make it wearable, comforting and clearly a work of art. While its sillage is delicate, its longevity is not; one benefits from leaning in, applying it to the nape or cleavage, where it wafts up with increasing body temperature fluctuations.
Laurie Stern notes that her perfume solid reads greener than the liquid perfume, and as she was kind enough to provide me with a sample of each for comparison, I can reaffirm this. The violet leaf is more pronounced; it is luscious in its own right, bewitchingly enigmatic. Pangolin Violette Rose as a liquid perfume smells rosier, with four exquisite ottos and absolutes reigning supreme in the foreground. Orgasmic jasmines and a dash of carnation contribute richness and intensity; a dollop of Choward's violet candy dangles flirtatiously before your nose. The sly soupçon of cocoa slips in and provides nuance without overt chocolate; lashings of orris absolute and concrete lend a sprinkling of violet powder (more violet than powder, on my skin) resembling fairy dust. Another beguiling facet of this perfume is its utilization of fine sandalwoods combined with an aged Tahitian vanilla in the base: I appreciate that the effect is woody and smooth without skewing sweet. It would be very easy to compose this as an über-powdery floral gourmand – and there are plenty of these fragrances as it is. Pangolin Violette Rose stands out because it presents a floral woody perfume for adults composed of the finest essences one may obtain; it's a voluptuous rarity which delights the senses. As is the case with each of Laurie Stern's perfumes, it is a full-throttle, open-hearted fragrance which elevates the spirit – and the fact that it will benefit endangered wildlife is an added plus. I'd highly recommend buying a sample, if nothing else; you'll not regret it.